Beach Sunset With Palm Tree Vistas
A beach sunset with palm tree silhouettes gives most people a wonderful, calm peacefulness. Do you feel that way when you see a sunset view with palm trees in the mix?
We invite you to take a look at the palm trees at sunset, with a relaxing beach setting. Have you Experienced That yourself?
Having your own blissful evenings of watching the sun go down on a tropical beach? With the palms swaying, the waves crashing on the shore. And dramatic colors changing by the second? As the sun sets below the vast ocean or stunning bay.
See all there is, keep scrolling on down. Or rather, choose what to see? For your beach sunset with that palm tree setting!
What's Your Best Beach?
All the Palm Beach Options:
See Palm Beach Sunsets:
Sunset Inspirations:
All Kinds of Sunset Beaches:
Remember Your Palm Tree Beach?
Which Palm Beach is For You?
Check Out the Gulf:
Hawaiian Sunsets:
Worldwide Exotic Sunsets:
Sunset Beach With Palm Trees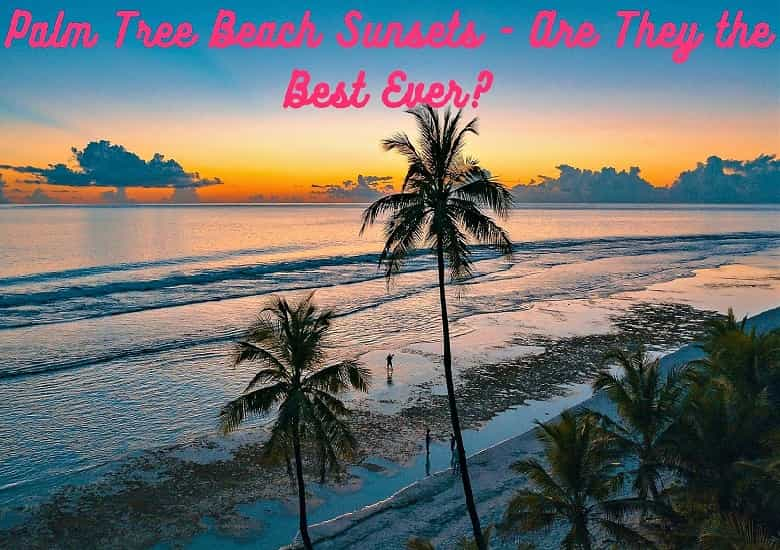 Do you have your own beach sunset with palm tree memories? We'd sure like to Hear About Them! And so would our other visitors here.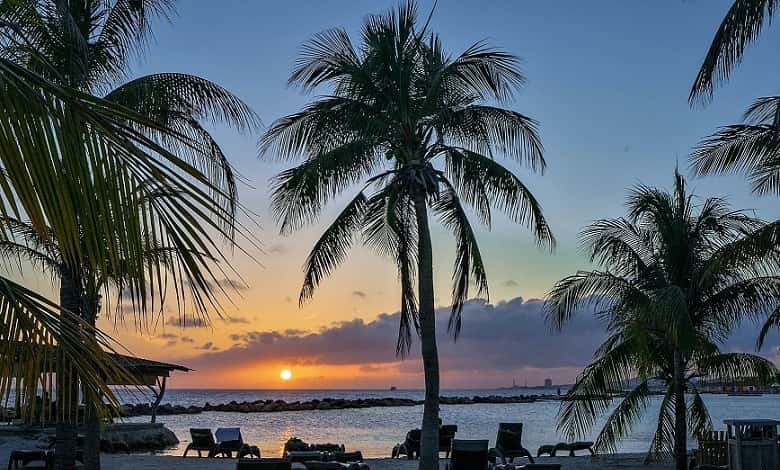 Many Resorts Have Stunning Palm Tree Beach Sunsets
Just think of all the places you may have seen this tantalizing refreshment. Can you Tell Us about your experience? 
Tell About Your Beach Sunset With Palm Tree Settings
What's Your Top Memory
OR
Stellar Photo?
Tell Us About Your Trip!
MissionPalmTrees.com is all about showing all the interesting things about palm trees!

Hubbie, Bill, & I make amazing memories by visiting wonderful palm groves, tropical places & having fun while doing anything "palmy."

We like sharing our travel stories & palm tree adventures (as you may have guessed!) with our site visitors. And just as you may have had, we've also had beach sunsets with palm tree surroundings.

We'd love to hear your story about that notable palm-laden beach. Or your sunset view while you were unwinding there! Thanks so much for sharing with us all...
Sunset Beach - Palm Beach
Palm Beach Florida
Sunset Beach
Palm Beach in Florida is probably the most publicized, best well-known town with the name: Palm Beach. It's a place known for where wealthy people live, for sure!
Sunset Beach in Palm Beach Florida has on occasion been a newsy item.
Florida law says all people have legal access to any Florida beach shore, from high-tide/erosion line to the shoreline.
Our Editorializing here! (Which to us isn't so great a law! Smacks of elitism! Other states don't have such a thing as "Private Beaches." Just bring your blanket, settle down & enjoy your day.)
Beach walkers like to walk along the waves' ends. Maybe for morning daily exercise. Or in the evening to view a gorgeous beach sunset with palm trees in view.
PALM BEACH SUNSET BEACH STORY:
Palm Beach homeowners along Sunset Beach one day decided they didn't care for just anyone being able to walk along that shore. They put up signs at the public access declaring the beach was private.
Saying "No Trespassing." Yet they only own Sunset Beach to the high-tide line.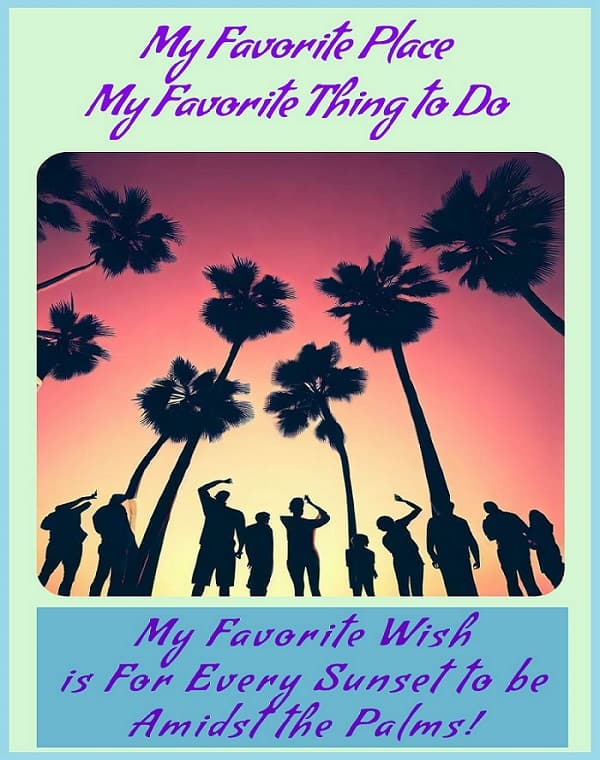 Sometimes these owners even harass those walking the shoreline.
That's according to Christine, a news reporter. Saying she's had that experience. She expressed it's like an us vs. them mentality. And that lately it's "getting much worse because so many people are here now." She also said it's "intimidating." Meaning: "You're really not welcome here."
TRY THIS INSTEAD:
Want a Palm beach area beach with palm trees, that's better than Sunset Beach? Where you won't feel intimidated or unwelcome.
Better Sunset Beaches Ahead
Explore Exclusives! Unlock Monthly Premiums - More Palm Tree Secrets Unraveled (+ Freebies)
Famed Atlantic Palm Beach
Are you near Palm Beach Florida? And you want to lounge on the beach? Take a nice dip in the waves?
OUR BEST SUGGESTION:
Municipal Beach in Palm Beach. Just south of the main part of town. 
Clean, has lifeguards, usually not at all crowded! Palms along the beach line.
Off South Ocean Blvd. From Brazilian Ave. to Worth Ave. & south.
Municipal Beach in Palm Beach is the Better Option
Sunset Palm Beach Locations
When you get to Palm Beach, look for that perfect place to view a beautiful sunset. We've got some suggestions:

LAKE CATHERINE PARK - About 11 miles northwest in Palm Beach Gardens at 9481 MacArthur Blvd. Be There as twilight approaches. Ready to watch the setting sun reflecting on lake waters. The colors shimmer, and the leafy trees and palms sway, giving it a romantic atmosphere.
TREEHOUSE LOUNGE & BAR - At the Canopy by Hilton West Palm Beach, Downtown. Go to the rooftop, you've got magnificent views!
FTC Disclosure: If you purchase via a link/ ad on this site, we may earn a small royalty. There's no added cost to you. Thanks much for any looks/ orders! Details>
Watch the sun lower over area palm trees as you sip your cocktail. With the glimmering waters of Clear Lake casting sparkles. Why not Stay the Night!
SUNSET PARK - In West Palm Beach, at 3601 N. Australian Ave., opposite 36th St. Sit on a bench as you watch the evening sun retreat. Reflecting its light, glinting off Lake Mangonia.

YOUR OWN ROOM - Get a room overlooking Clear Lake for your own private showing of a Palm Beach Sunset! Where can you do that? Request an upper floor room with a west-facing view at the West Palm Beach Marriott.
ALONG THE PALM BEACH LAKE TRAIL - You're certain to find a good view across Lake Worth Lagoon, along this 5-1/2 mile pathway. Across the water views are the best for sunsets. Adding in palm trees makes it better yet!

The best access is near the trail's South end. Intersection of South Lake Dr. (paid parking here) & Peruvian Ave.

A suggestion for photos is in the area of the Royal Park Bridge, especially the North side.
Gulf Coast's Sunset Beach
Why not check out the other Florida Sunset Beaches with palm trees!
ON TREASURE ISLAND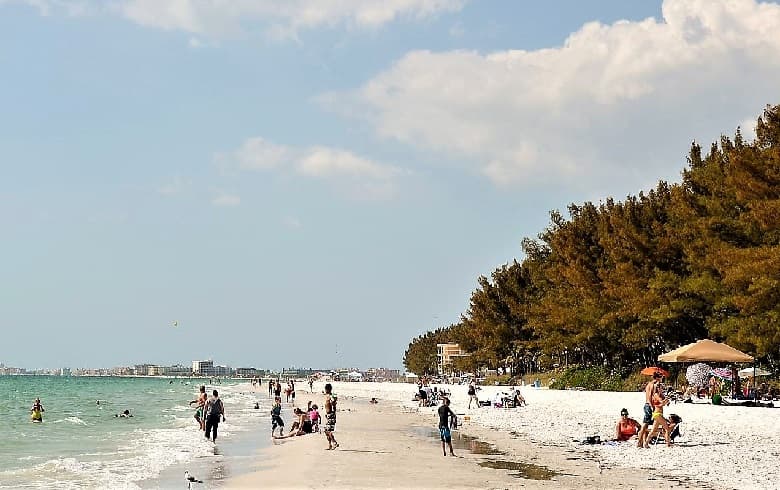 Sunset Beach on Treasure Island in Florida
Near St. Petersburg Florida, one treasure they have is Sunset Beach. At the very south end of Treasure Island.
FAMED (SORT OF!)
Sunset Beach on Treasure Island has been rumored to be the inspiration (another one!) for that tropical palmy flavored song by Jimmy Buffett:  Margaritaville!
Get your laid-back, friendly & easy attitude on. For your relaxing beach sunset here. 

You'll see some wonders with that western water view! For namely: the sunset!

Here you have access to a nice boardwalk, too. Six parking areas available.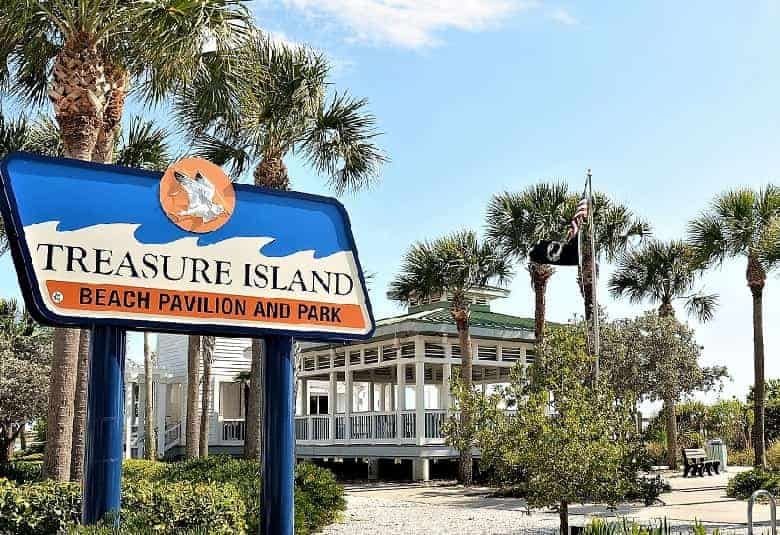 On the Gulf Coast, Get to Sunset Beach Here
AT TARPON SPRINGS

On a tiny peninsula is this small, usually uncrowded beach. You'll get your perfect sunset photo here. Palms along the sand beach. It's a little known gem in the rough!
Directions: From Pinellas Ave. in town, take West Orange Ave. Follow onto N.Spring Blvd., becoming Riverside Dr. Left on Tarpon Dr., then right on Gulf Rd. all the way to free parking.
No dogs allowed here.
Wonderful for kids:
Because of shallow water & low waves
Also a playground & restrooms
Water is clear & the whole place is clean
Palm Beach Sunset Paintings
A Palm Beach sunset painting will remind you of the picture-perfect trip to these gorgeous shores! Have your camera ready!
Have you walked out to A Sunset Like This?
If you haven't been yet, maybe you'd love these paintings! Because they spur you on to planning your bucket-list trip.

Don't wait to plan your own beach sunset with palm trees. Because time won't wait for you!!
Sunset Beach Hawaii
Have you been to Sunset Beach in Hawaii? It's on the North Shore of Oahu.
When our son-in-law was in the army, serving at Scofield Barracks, we began visiting Hawaii. Our daughter invited us to sleep on their convertible sofa.
We'd help out with our granddaughters (happily!). Taking them places, including the beach. In the summer, Sunset Beach on Hawaii's north shore of Oahu, normally has calm waves. Good for taking the kids in. And now we return again & again.
Sometimes go there later in the day, to stay for the sunset. Well worth it! You might find you'll return again & again!
Honolulu in Waikiki also has wonderful sunset views. Don't miss them if you're there!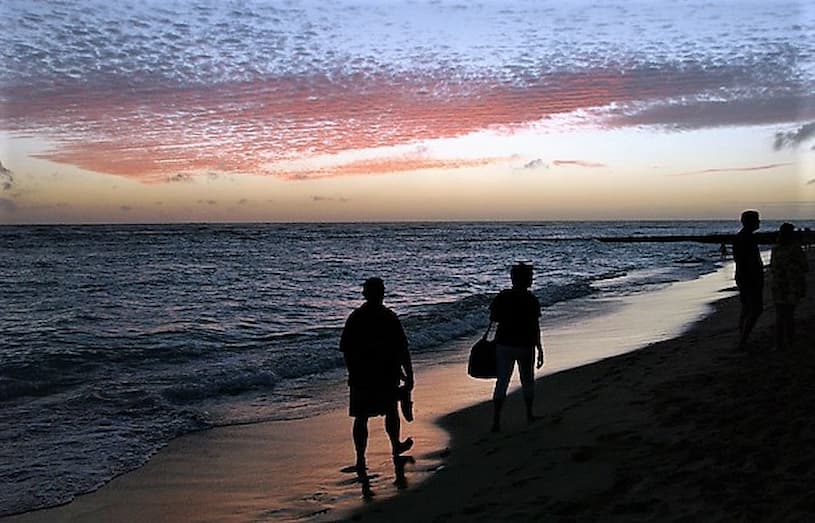 Walking On Waikiki Beach at Sunset - A Beloved Hawaiian Past-time
Palm Trees Sunset Beach
Other Sunset Beaches in the US
Sunset Beach North Carolina
Go far south in NC for Sunset Beach. Where there are tons of things to do! Plus the gorgeous beach.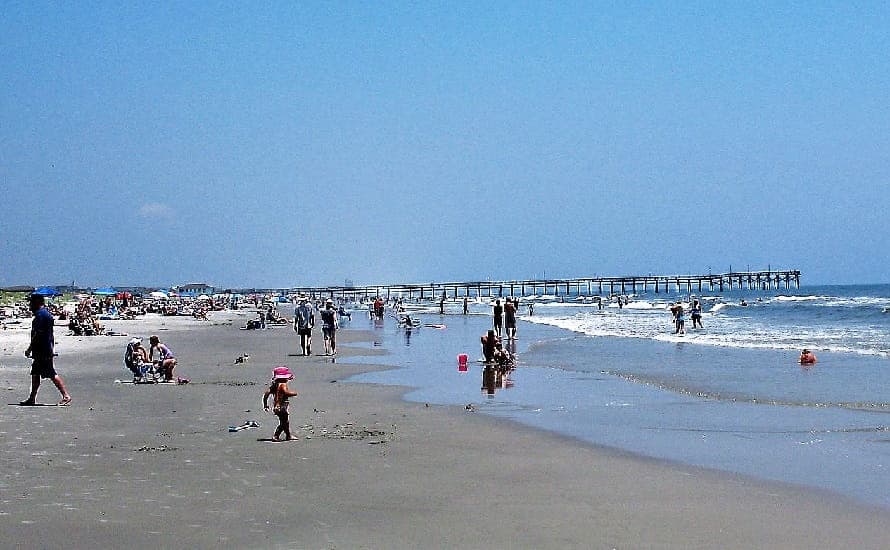 Wide Expanse of NC's Sunset Beach - Just Wait Until Sunset!!
SUNRISE - SUNSET!
Plus there's a unique view of sunsets here. Because from the same beach you can also view the sunrise. At Specific Times>

You can find palms in beach areas & more.
Sunset Beach California
You have several choices for Sunset Beaches in California.
At Huntington Beach

Sunset State Beach
Sunset Beach Oregon
TWO SUNSET BEACH CHOICES
One north, one south in this stunning state. Probably you'll not see palm plants along the beaches. Palm trees are growing in some areas of the state. Did you know that?
Sunset Beach State Recreation Site - Except for summer beach-going hours, you can ride a vehicle along this wide beach. Off Pacific Coast Hwy., south of Astoria & Warrenton.

Sunset Bay State Park has a Sunset Beach. Accessed from Cape Arago Hwy., along the southern coast, north of Bandon. Views of Sunset Bay are magnificent here.
Startlingly Gorgeous Sunsets at Sunset Bay State Park in Oregon
Sunset Beach Washington
Anacortes Washington
Sunset Beach is in delightful Washington Park. You get views of the San Juan Islands along with your sundown show.

Sunset Beach Washington Directions: 
Off I=5, from Burlington or Mt.Vernon, head toward Whitney along Rt.20. Entering Anacortes watch for left turn-off onto Sunset Ave. 
There's parking along Puget Way.

Sunset Beach in Anacortes Washington - Have Your Camera Ready at Sunset!
Sunset Beach, Washington State
This One's not on the Pacific coast! It's along the Hood Canal's eastern shore toward the "hook's" end.
Northwest of Tacoma & southwest of Seattle. Off Hwy.106. 
Sandy beach with westward views & a designated swim area.

Sunset With Beach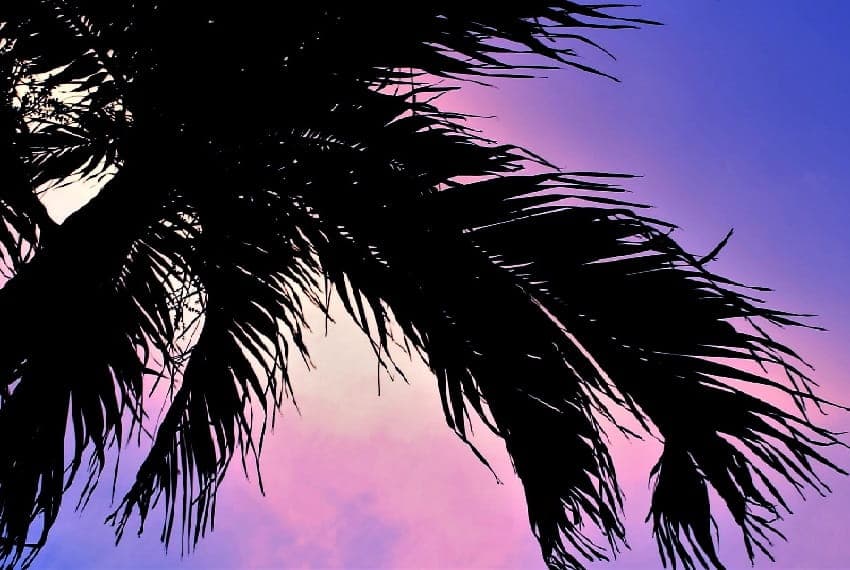 When Seeing Palm Fronds Silhouetted in a Sunset - Think of the Stunning Places You Could Plan a Visit!
Lots of places to see a sunset with a beach. In tropical and subtropical areas, add in palm trees for fabulous sunset beach vacations.
We've got more places to include for planning your bucket list trip. Right, not all of them have that beach sunset with palm tree views. But you still may think it's a perfect holiday!
Around the world there are a great many places to have a sunset with palm trees. How exotic do you want to get?
OL' MEXICO
AND MORE
---