Palm Tree Gifts - Ideas & Reviews
Are you hunting for the perfect present for a tropics lover? Who particularly loves palm trees? Maybe along with Tropical Beaches, too!
As lovers of everything tropical and beach-themed, we truly understand the feelings attached to palm tree gifts. Maybe for celebrating a milestone, preparing for a holiday or special occasion, or simply gifting a fellow tropical devotee.
We search to bring the best palm tree gifts. We sincerely hope our suggestion guide helps you sort among the diverse category of these tropical gifts. To surprise your friends or loved ones with the most befitting easygoing present!
Have a special day not too far into the future? Are you seeking that perfect gift for a palm aficionado? For momentous occasions that create memories! We have recommended selections for you. But you can Check Out Our Menu to make your particular choice.
Tropical Gift Ideas
Congratulations, you're on a tropical trail! Palm tree gifting caters to that soft corner for calming tropics in our hearts. To bring a slice of exotic contentment to homes.
From artwork to jewelry, live plants, knickknacks, and garden or deck decor. Yes, the options are as varied as palm species themselves.
FTC Disclosure: If you purchase via a link/ ad on this site, we may earn a small royalty. There's no added cost to you. Thanks much for any looks/ orders! Details>
After choosing exactly the right gift for someone, you'll see their delighted faces! Lit up with affection. As your friend or loved one unwraps a palm tree present.
This celebratory Palmy Spirit is what we strive to outline with our range of tropical, beachy, palm tree gift ideas!
Considering your own budget is always a smart move. Believe me, there's something for everyone here!
Palm Tree Jewelry
We'll assist you in your pursuit of the perfect palm jewelry piece. For those with a penchant for tropical accessorizing! A subtle yet stylish Palm Pendant or Tropics influenced Palm Leaf Earrings can be a great addition to their jewelry box.
We recommend pieces designed with a keen eye for detail along with tropical ambience. To ensure a lasting impression for your special someone.
Palm Tree Necklaces
Or you may prefer this similar one, by Proess.
(Don't tell my hubbie 😉, but even though I love the one he gave me, I think I like this one's style a bit more!)
---
Palm Tree Art
Consider our suggestions for palm tree artwork. Do you prefer the more professional looking scenes on Palm Tree Canvas Art? Or do you like the more casual artwork on wooden boards or by using metal?
From serene beach landscapes to interesting abstract versions of palms, there's something for every taste. I know we love it all! Being surrounded by the palmy tropical atmosphere.
Enter our realm of soothing colors and textures, with our palm tree gifts in artwork. Do you think this would be your perfect gift for someone you know who loves tropical aesthetics?
HERE'S MORE ART TO PERUSE WHILE THINKING OF PALM TREE GIFTS!
---
Buying Palm Plants as Gifts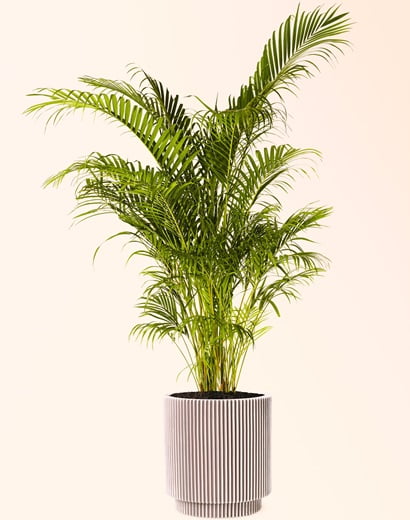 Is It the Right Person for Gifting a Potted Palm?
Live plants also make a delightful part of our palm tree gift selections. Gifting a piece of life is a beautiful way to show your loving affection. Whether Housed Into Cute Pots or planted as seeds tucked into Palm Starter Kits. Either way makes a pretty unique gift.
We don't ignore those who prefer the Low-Maintenance Option! Yet still desire that tropical charm.
Take a look at What We Discovered! We gathered a collection of Artificial Potted Palms. With their realistic appearance, you'll give instant tropical flavor to any room in your friend's or loved one's home.
---
Beach Gift Ideas
Looking for beach gift ideas for those beach outdoorsy people you know? Will these fit the bill for palm tree gift giving?!
But that's not all - the options are limitless and exciting! Combining beach gear must-haves with palm trees. Gifts you'll love to check out here...
Home Decor & Gifts for Beach Lovers
This recommended assortment of beach themed items never disappoints.
Think miniature palm figures, Shoreside Palms Adorned Stationery, or even palmy Tropical Beach Keychains. We're sure you'll find a quirky little something that suits your budget and fetches that smile on your giftee!
---
Takeaways for Palm Tree Gifts
When you buy a gift, you're not merely performing a transaction. You're expressing a sentiment, a medium to convey love & affection.
One key aspect of gift shopping is mindful packaging & prompt delivery. We make sure your palm tree gifts are packed with utmost care. Added to this, dependable delivery ensures your gesture of love reaches your chosen friend/relative on time. Plus easily returnable options.
All this is why we work with Amazon, typically satisfying all those expectations. We use Amazon ourselves, all the time. We've shown you some of our own items here, that we've purchased from them. Maybe you'll like one!
Our aim is to assure you'll come away with tropical charm. Being ready to cast a sunny spell on your special occasions!
Are you ready to shop for tropical stuff? Like palm tree gifts for that special occasion. Or beachy vibes for seashore lovers? See which area is most to your liking:
---