DIY Palm Tree craft
Multiple Crafty Options for All Ages
DIY palm tree craft projects can keep your kids entertained for awhile.
Adults may enjoy some of them too. Especially when you make them with such care, you'll consider them Display Suitable! To hang on your wall, place on a table or desk, etc.
We'll show you different kinds of DIY palm tree craft projects that are fun. Some easy for kids, some more challenging and suitable for adults. But all that will give you, the crafty creator or child-helper, pride in the outcome of the work!
Look them all over, or Choose Those You'd Like to See:
GET FREE, HELPFUL PALM TOOL-KITS
When you order "Life Amid the Palms" Our Monthly Fun Memo!
Basic DIY Palm Tree Craft Supplies
Palm tree related crafts will nearly always use certain supplies over and over again. Other supplies will be used often enough, it will be good to keep them around.
CRAFTING ROOM/TABLE
It's nice if you have a specific area to keep your craft supplies. Maybe a shelf or table in a corner of an office or playroom. Perhaps there's a spare closet nearby that can be dedicated to storing craft supplies.
We use a corner of our home office to set up crafting materials.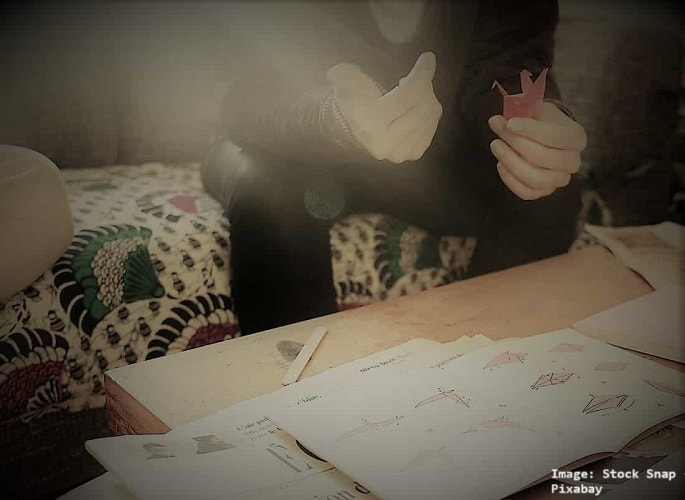 Using Print-Outs is Handy for Crafting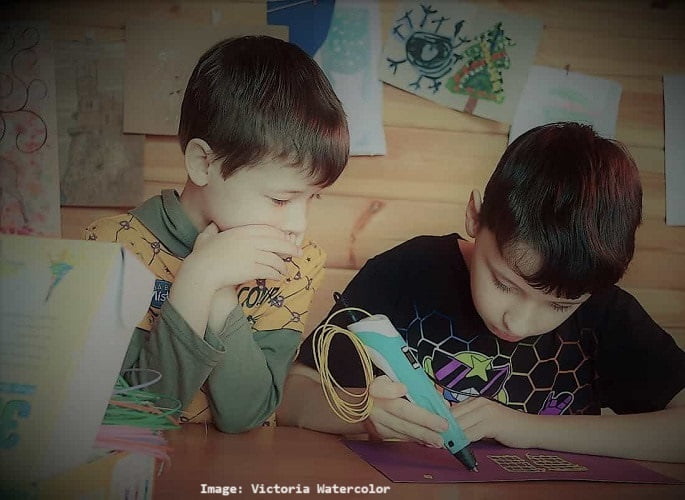 Kids Enjoy Developing Their Creative Side!
A small desk with drawers can hold these items. The top surface will also be a good workspace, when you're crafting indoors.

YOUR HANDY SUPPLIES
Here are your suggestions for keeping on hand:
For measuring: Tape-measure, yardstick, straight edge ruler (12").

Small notebook for making lists or noting down ideas.

Watercolor and/or acrylic paints and assorted brushes.

Plaster of Paris can be handy.

Scissors of a few different sizes/types, crafting knife & snips, wire-cutters.
Assorted containers: pails, jars, cups, lids, boxes, etc.
Do you have useful odd shaped items for reuse? Like egg cartons, toilet tissue/paper towel cardboard cylinders, berry baskets, plastic drink bottles, butter/margarine tubs, etc.
Old travel magazines or catalogues with useful photographs or drawings. 
Different types of paper for varied crafts. Examples are graph, white copy paper, differently colored construction paper, crepe paper, foil paper, tracing paper & various wrapping papers. 
Also old newspapers for a workspace covering. If you're only an on-line subscriber, there's still plenty of ad papers that come via snail-mail!
Spools of thread and/or yarn, in assorted colors.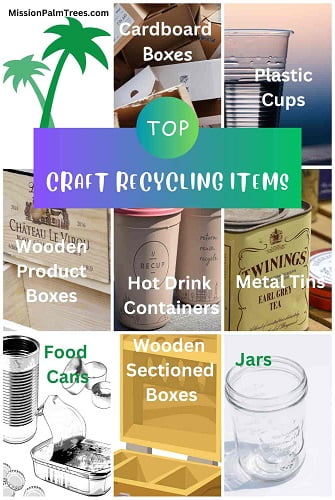 Keep these handy in your craft room.
Palm Tree Craft Ideas
There are many Palm Tree Craft Ideas. Here are a few takes on that...
ANTIQUE PALM SCENE ARTWORK - Place it in a suitable old-timey frame for hanging.
Supplies:
Used book with full page palm scene photos/drawings

Leftover very strong coffee/tea

Large baking sheet pan

Four items to use as paper-weight items

Transfer pipettes

Spray bottle
Steps: Read these before beginning, so your plan is in mind. Have your work surface covered in old newspapers.

Decide on the artwork from the book or magazine you'll use. 
Carefully remove it by cutting with the scissors or craft knife. Use the ruler's straight edge to cut the sides evenly.
CAREFUL WITH THIS
Pour the dark coffee/tea liquid you're using into the sheet pan.
Dip the artwork into the pan with the liquid. Be sure it gets fully coated. Don't get it overly soggy so it falls apart, though!
Carefully take the artwork out. Place it flat onto the workspace newspapers. Be sure it's flat. 
Then put the paperweights on the corners. Barely touching them.
FINISHING UP
Use the pipettes to suck up some liquid. Place two or three small puddles in areas of the artwork. And gently eek out lines of it across the art, to appear like cracks. This will dry in a way to look more authentic
Once dry, assess the look. Use the spray bottle to apply more "antiquing" liquid process to it. Several times, if needed.
When happy with the look, let it completely dry. Then be sure there's no wrinkling or curling by covering it for 24-48 hours with heavy books. It should be all ready for framing!
Making a Palm Leaf Mat
DIY Palm Tree Craft Quick Tutorial
Did you ever get one of those pot-holder making kits as a gift? I know I did, when I was a kid. The same weaving method is used to make a mat from Palm Fronds.
Cool idea to use for summer outdoor get-togethers. If you don't have a source for your own leaves, check with local gardening companies. They may save you some when they go out to Trim Palms.
How to Make Palm Trees & Accessories
There are multiple ways for how to Make Palm Trees with crafting ideas. We've got several of those right here.
BRONZE PALM TREE SCULPTURE
Turn a cheap plastic palm tree into your own artistic masterpiece!
Supplies:
Cheap plastic palm tree (check "dollar-type" stores & craft or party supply or shops).

Large round hard plastic or metal container lid for the base.

Household gel-like glue or similar.

White glue & spray bottle with water.

Three colors of Spray Paints: Dark Brown, Silver & Gold Metallic.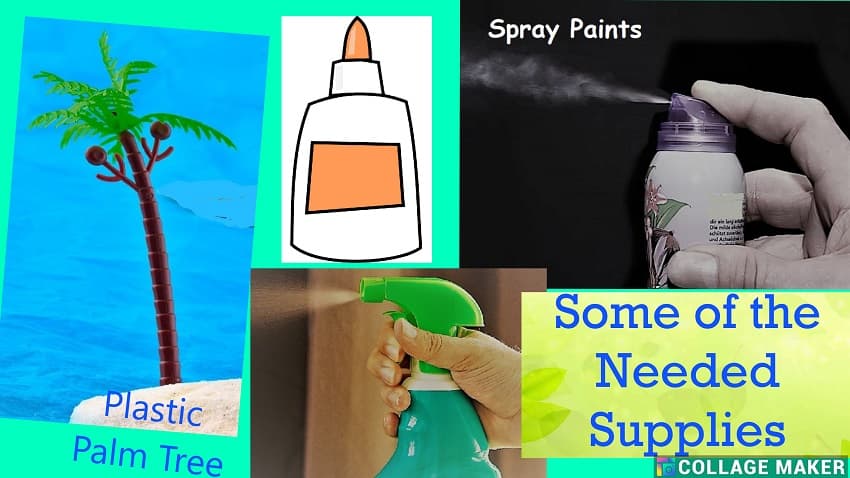 STEPS: Consider you'll attach the palm to the base made from the container lid. For advance planning of which plastic fake palm to choose.
FAKE PALM PREP
Glue the bottom of the plastic palm onto the container lid. Use the strong household gel-type glue. Your plastic palm should have a small base already. It will adhere better, to the larger base you're giving it. 
It needs to be able to securely stay upright without problems.
Be sure it's dry, then open the white glue. Smear it over the palm, giving it texture. Especially trunk areas & along the base. Even more-so where the palm attaches to the base. The appearance should have a sculpted look when dry.
FINISHING TOUCHES
Wait for the glue to dry. Be sure to give it enough time, then spray it all over with the dark brown spray paint. Let it fully dry.
Get the water spray bottle & have the silver-metallic paint spray ready.
First, spray it all over with water. 
Then immediately spray it with the silver-metallic paint. 
Let all this fully dry.
Now find a place in your home decor for this bronzed palm artwork creation!
Palm Styled Desk Set
MAKING THIS DIY PALM TREE CRAFT
Create a swanky desk set that will impress others who visit your office, or come by your desk.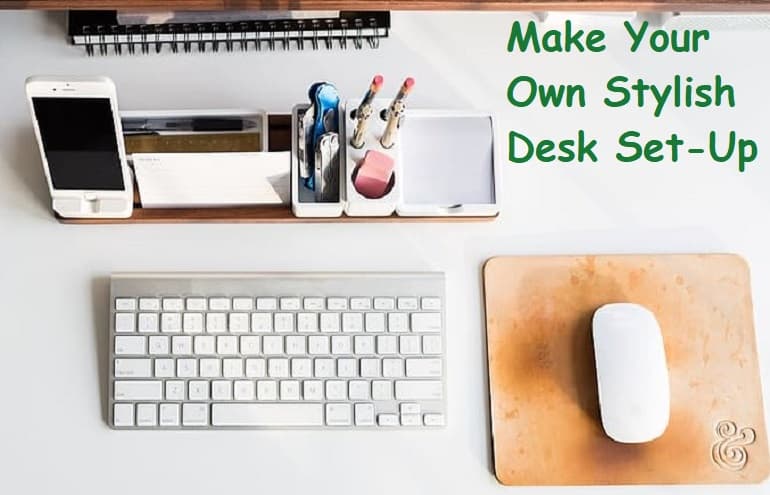 Supplies:
Blank copy/printer paper or white wrapping paper for drawing a template
Gold spray paint
White glue
Pencil
Ruler/straight-edge
Scissors 
And these Brass Palm Charms.
MORE PREP ITEMS
The swanky style comes from Ultrasuede, get the color of your choice.
Add a length of ribbon in a complementary color.
Containers to make the set's basis. Get new at a dollar/craft store or recycle those from around the house. Adjust per your own needs/wants.
For instance a cleaned soup-can could be the pencil/pen holder. A small box could be reused as a holder for supplies like paper clips, etc.
Steps:
ULTRASUEDE TEMPLATE
Wrap the paper around the container, fitting it at the bottom. If there's already a full label on a can, for example, that can be the template. Remove it carefully.
Mark the top in 3 places. Mark where it overlaps for the length. 
Take it off to draw lines with the straight edge, using the marks as your guide. 
Trim along the lines to finish the template.
BEGIN YOUR DIY PALM CRAFT WORK
Use gold paint to evenly spray your container's entire outside & inside. Let it dry.

Put the template onto your Ultrasuede piece. Trace it & then cut.

Smear white glue onto the rear of the Ultrasuede. Carefully place it on the sides of the container. Begin at the top edge to get it even, then smooth it downwards.
FINISHING TOUCHES
Decide the Palm Tree Charm placement. Angling it sometimes works well. Smear white glue on the back of the charm & stick it in place.
Be sure the charm's surface isn't upright while drying, or it could slide. Lie it flat.

Are you placing the Palm Charm on a cylinder? Before gluing gently bend the brass charm against the cylinder first, so it will fit.
Let it all dry. Now you can add ribbon to accessorize any pieces wherever you feel will look good.
Now you'll have a snazzy DIY Palm Tree craft desk set that really looks nice!
Crafts With Palm Leaves
On one of our trips to Maui, we purchased a palm leaf basket from a native Hawaiian craftsman. He was set up just past Hana. It lasted for many years, but sadly got lost in one of our moves.
Varied uses of palm leaves can make many assorted crafts. A few Crafts With Palm Leaves are here for you to try.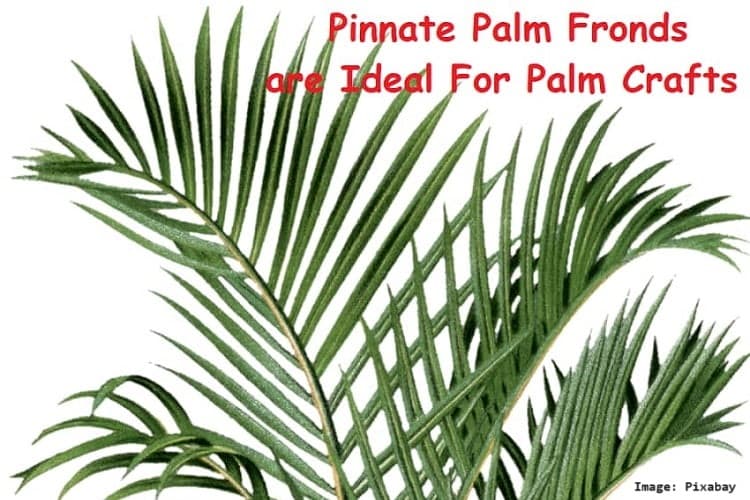 PALM LEAF LIGHT SWITCH PLATE

Get your light switches in on the palm decor by adding palm frond styling to them.
Supplies:
Spray Adhesive

White Glue

1" Paint Brush

Scissors & Craft Knife

Clear Acrylic Spray Coating

Small Phillips-Head Screwdriver

Plus the needed artwork
Create Your Own!
For Example -
Cutouts of Palm Frond photos

or

Magazine Images, o

r Post Cards
Or

Internet Image Downloads for printing

Or

from Decorative Papers at Crafts Stores like Michaels

or

from Wrapping Paper.
Steps: Remember to begin by protecting your work space.

Decide on your art & trace it to size by using the switch plate as a pattern.
Remember, there's a rectangular middle area for the switch. Check for it interrupting the art.  Consider that for your placement.
At each of the picture corners, make a 3/8" cut inward toward the center.
This enables the artwork corners to flatten over the arced switch plate corners.
ATTACHING YOUR ART
Spray the palm frond art's backside with spray adhesive. Then carefully & evenly from the center outward, place the art over the switch plate. Smooth each of the sides downward to be sure they stick.
Turn the plate over. Use your craft knife to cut an "X" into the back of the art, through the rectangular opening in the switch plate. That makes 4 triangles you'll fold to the plate back.
Place a drop of white glue onto a triangle, smear it around. Fold it inward to stick onto the back of the switch plate. Do that with each triangle.
FINISHING TOUCHES
Hold the plate up to the light looking at the front to find the screw holes, often above & below the switch rectangle. Use the craft knife to make an "X" into each, from the front. Push the screwdriver through the hole to push these triangles toward the back. 
Instead, a sharpened pencil can also be used to push through.
Place the switch plate on your protected surface, right side up. Spray-coat it evenly with the Spray Acrylic Clear Coating. Wait at least 10 minutes for drying, then spray it again. Then do that process once more time.
Now it's ready for choosing the room you want to emphasize your Palm Tree Home Decor. And placing it there as a switch plate to light up your palmy energy! It will be a notable DIY Palm Tree craft your friends may imitate!
Palm Styled Writing Pen
MAKE YOUR PALMY WRITING PEN
When writing, keep in tune with your palmy lifestyle by using your own pens with a palm leaf top!
Read the directions first. To help determine purchasing needs for this DIY palm tree craft.
Supplies:
Ballpoint pens (capped, non-click)
Artificial palm fronds with thin/wire stems
Floral tape
Wire cutters & scissors
A ruler
Steps:
FIGURE YOUR OVERVIEW
Don't make them too long, though - as writing with the pen could become unwieldy.
MAKE THE CUT
If your palm fronds are small pinnates, what looks nice are 3 of them at different heights.
COMPLETION
Secure the palm stem/s to the non-writing point end of the pen. Use a strip of the floral tape to anchor it.

Begin winding more floral tape tightly around the palms wire stem/s, attaching it/them securely to the end of the pen.
The Palm Frond Pen is now all set for your next writing task!
DIY Palm Tree Crafts for Holidays
Craft for Palm Sunday
Many artists based artwork on Jesus returning to Jerusalem. Now commemorated on Palm Sunday. This artwork can be used as a DIY Palm Tree Craft for Palm Sunday. Suitable for youth Sunday school lessons at varied appropriate ages.
VINTAGE RENAISSANCE PALM SUNDAY ARTWORK PROJECT
You can search the internet for related artwork for this plan. Or use one of ours provided. (If you're struggling in getting one of these, Contact Us and we'll help!
Supplies:
Vintage Palm Sunday Artwork print

Acrylic paints

White glue (try decoupage paste) & spray adhesive

Small paintbrushes
ARTWORK BACKING
Try for 8-1/2" X 11" size. Smaller if need be. You'll want the backing larger than your print-out art.
Use wood, metal, or plastic. Save on your budget. Look for cutting boards, used items, leftover wood cuttings from hardware/home stores, dollar store pieces, etc.
Steps: Read through them before gathering materials & beginning. So the instructions are in mind, if you're helping Sunday School kids.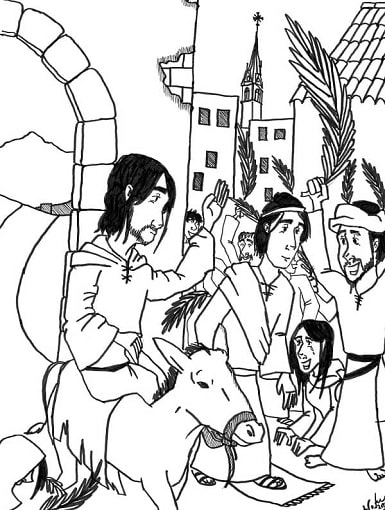 Attach your art print-out, centered, to your backing with the spray adhesive.

Using gold acrylic paint, brush it over the edges of the art & onto the backing. The gold edges of each side can be a bit ragged.

With a paper towel, smear red acrylic paint on the outer edges of the art's backing. Blend it into the gold. It should be a ragged blending where the two colors meet.
FINISHING TOUCHES
To liven up the painting, use a color like those in the art to lightly spruce up any dark areas. A few little light brush strokes in the background, etc.
If it's a line drawing, older youth can get creative with a few colors added to inside edges, like shading.
Once all the paint is totally dry, get the white glue or decoupage paste. Cover the entire image & backing with this. This will style it with texturing, plus seal it all. 
When dry, it can be framed or hung as is, depending on the type of backing used.
Christmas Palm Tree
There are multiple ways to create a Christmas palm tree. Here are some ideas for your family members:
Hang Snowflakes On Your Palm
That's surely opposite sides of a coin! But what fun! Easy for kids to do.
Supplies:
White construction paper (X how many snowflakes you'll make)

Small dinner plate

White yarn/thread

Pointed scissors

Clear acrylic spray coating
Steps:
Take a small plate for tracing a circle on white construction paper. 
Fold the circle in half, then 1/3 inward, & on the other side another third inward. Now fold that in half.
On both sides, cut out chunks into the paper. Cut out little triangles or wedges, some small rectangles & half-circles.
SEE & USE YOUR DIY PALM TREE CRAFT!
Open it up to see the whole snowflake. 
With the scissor point, poke a hole into one area, about one inch from the flake's edge. Cut lengths of white thread or yarn & put through for hanging.
Using it outdoors? Spray the acrylic coating on both sides of the snowflake for weather protection.
Do you have an Indoor Potted Palm on which you can hang a few snowflakes?
Or a Palm Tree Type outdoors, with a rough trunk on which you can loop the yarn?
---