About Us
About Us - Who is it behind the scenes of this website?
We're Karen [That's Me>] and who else: Bill [That's Me>]! We're glad to meet you!
We're here for those who have a passion for all things related to palm trees. Just like us! As our website is named...
Mission: Palm Trees
We love being in the realm of these beautiful tropical trees. We're fortunate to live in Tucson Arizona, where the climate suits the growth of palms. We love our town.
But we also love to travel! And more often than not, where do we go? Quite frequently it's where we can relax under, stroll alongside, or view scenically: palm trees!
Yes, our website's mission purpose is posted at the top of each of our web pages. (Just look above!) That palm trees are...
NOT ONLY RADIANT PLANTS - THEY'RE A FUN LIFESTYLE!
---
Our Overview
Introducing Ourselves
Karen & Bill of Mission: Palm Trees
We're both happily retired from our medical field professions as Respiratory Therapists in hospitals and in education.
But we've always loved traveling. Since we first met, and began dating - way back! We'd take car trips. Back then we lived in the Northeast of the U.S. With cold winters, we dreamed of going to warmer places.
We married, and began progressing in careers. Eventually with our own business: Karen as a sign painter, and Bill as a custom auto detailer. It enabled us to make those travel plans we were hoping for. Going south to Florida, southwest to Texas, even to Hawaii. We had two kids after marriage, which meant we usually took them along with us.

Finally after visiting Arizona, we made the decision to move to Tucson. It took some planning, and financial adjustment. But we made it happen, and were so glad we did!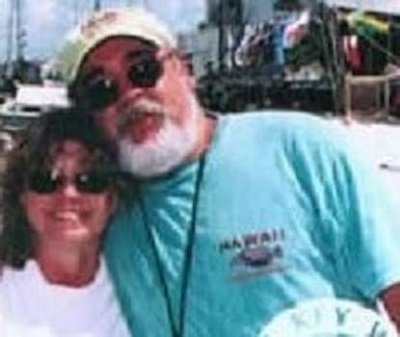 Here's a Time We Left Our Kids With the Grandparents On Our Key West Trip
At that time we needed a new career. It's when we went to school, becoming Respiratory Therapists. Working in local Tucson hospitals.
After practicing for a substantial time, we were offered teaching positions in an Associate Degree program for Respiratory Therapy. In Southern California! We said absolutely! Spent 10 years there, until time for retirement - when we returned to Tucson.
All in all we love our state: Arizona. We also love traveling to all those places where palm trees grow. Visiting groves, towns & cities, resorts, botanical gardens and more. All to experience the tropical climate with its palm tree settings. Plus the stunning beauty and many opportunities for recreation these areas provide, that are right up our alley!
We love this type of fun. We invite you to come along for fun with us!
To keep you informed, we Regularly Research what's going on in "palm province" - quite a job! But still, we want to know what your interest is. What do you need, or are you looking for?
We'd love Your Input! What else would you like to see on this website? What questions, comments or Feedback Do You Have?
---
Our Mission, Vision & Core Values
We aim to provide valuable information about any palm tree subject you may wonder about. Plus related issues. For any interested people. For gardening, landscaping, hobbyist, tourist, recreational, travel, touring, natural, educational,  conservation, and ecological value.
We endeavor to do Authentic Research to the best of our ability.
If we discover errors, we fix them asap (we Welcome Input). In support of our research and authorship of content for you - we maintain productive/related memberships & credentials:
Members of The International Palm Society
Members of Hawaii Island Palm Society
Members of Friends of the San Pedro
Members of Local First Arizona
Please see our full Mission Statement>
About Us - Karen & Bill
---
I'm Karen
Here I Am - In a Prime Birding Area
Although born in Scranton Pennsylvania, growing up on the U.S. Northeastern Coast, I always knew I'd end up in a warmer climate. Before we moved away, we'd head south for vacations. Savannah Georgia, anywhere in Florida, driving southwest to Texas. I'd get a happy feeling as soon as I started seeing palm trees along the way!
I've always loved outdoor activities, travel, history, nature, conservation and birding. All of which melds well with the interest I began developing in palm trees.
I'm the primary author/constructor/webmaster of this website. But Bill is involved, too!
---
I'm Bill
Bill While Traveling to Not So Tropical an Area!
Bill is my husband. We've been married many years - were high school sweethearts. We enjoy many of the same activities and interests. That includes our travels where we can sit in a café by a bay or ocean beach lined with palm trees!

Bill contributes to the website. He helps with ideas, photos, offering critiques, researching information. He collaborates on our investigative trips to find needed info. He's imaginative and thinks of unique information and creations to offer readers.
Bill loves beautiful scenery, new adventures, etc. He adores the Southwest, and really loves Arizona! Exploring new tropically toned places to visit, such as Hawaii, is a favored past-time.
---
NOW THAT'S ENOUGH ABOUT US!
WHAT ABOUT YOU?
Do you have questions, or comments?
Tell us what we're missing? What more would you hope to be seeing on our site?
What can we find out for you? We're open to input!
Even Search Our Site to Find What You Want - At the Search Bar Up Top
---
Want to Say Something? Please let us know...
Comments / Feedback / Testimonials
IMPORTANT - If you want a reply from us, please ensure your email provider doesn't send our reply to your "Spam" or "Junk" folder. You may think we never responded! Oh no!!
We always respond if you want that. Be sure your email provider is not blocking us from @missionpalmtrees.com.
Send Us Feedback Or A Message...
---
About Our Website
We use a terrific system to build our website. It's called Solo-Build-It! (Solo Build It). It's not just a website builder, it's an all-in-one business builder.
We've used a number of different website builders - you've probably heard of them, seen their ads. They include free (some for awhile anyway!) and low-cost.
None can compare to the value that Solo Build It offers. See others on the film here, who've used this system to create successful home business websites.
We would recommend it to anyone who may think of having a website. No use making one, if no-one goes there to see what you've created!
FTC Disclosure: If purchasing something via a link/ad on this site, we may receive a small commission. There's no added cost to you. Thanks much for any orders! Details>

We hope you will want to see Why We Recommend Solo Build It - how we came to choose it for our website, and why we love using it so much! You not only have a company that supports you in every way possible, you have a community of like-minded people who understand what you need, are doing what you're doing, and will pay it forward.

---