Palm Tree Decoration Ideas
Palm tree decoration ideas for bringing that tropical aura into your surroundings. Do you like doing this decor to remind you of that relaxing vacation you had? With that exotic air? Now bring it to fun activities at home!
We can help! With ideas to get the palms into your own balmy lifestyle.
And invite others to join along in the fun, if that's your purpose. Or for your own family's entertainment!
See which of these may be what you need:
Tropically styled aura for holiday parties

Your holiday tropical decorating using palm tree craft ideas
Tropical or Luau Party Outfit: What to Wear
Palmy DIY Crafts you can find or make yourself
How to throw a Luau party
Luau Party Ideas
Ideas, Themes & Supplies
Luau party Food Suggestions
Entertainment & Games
All Kinds of Palmy Styled Party Help
FTC Disclosure: If you purchase via a link/ ad on this site, we may earn a small royalty. There's no added cost to you. Thanks much for any looks/ orders! Details>

IDEAS TO THINK ABOUT:

Track your party plans on a Palm Tree Themed Calendar.

Tiki Items are normally associated with tropical themes.
And so are Coconut Shells. 

Some fabulous Coconut DIY Ideas you can do yourself!

Small Seashells would be an appropriate addition.
Palm Tree Décor for Parties
Planning a party with a palm tree theme? Getting some things in order ahead of time will help everything go smoothly. Think about the beginning, with Your Party Invitations.
Tropical Party Décor
Tons of palm tree decoration ideas can help you plan your tropical party theme. Just depending on how palmy you want to get! Plus your specific concept & your budget.
Write down your plan for categories, such as: Decorations, Eating/Drink Needs, DIY Options, Palm Favors, Miscellaneous.
Then number the items you're viewing according to your wants & budgeting. 1-Essential, 2-Nice to Have, 3-Afterthought If Possible.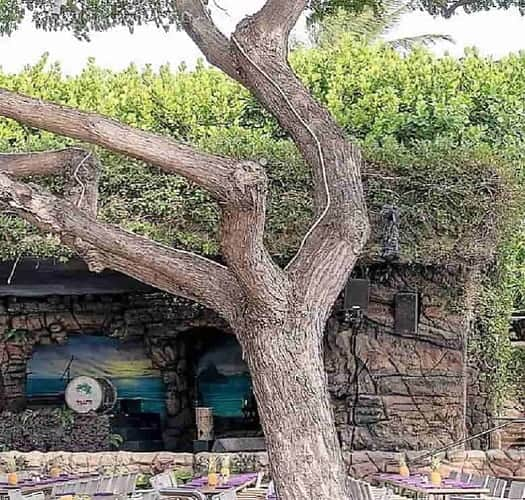 This Tropical Party Could've Used Some Advance Planning Help!
FREE HELPFUL DOWNLOAD

Get Our Free Palm Tree Party Decoration Planner for immediate download:
Click Here For Your Party Planner>
PLANNING QUESTIONS FOR PARTY SUPPLIES
When planning for palm tree party supplies, ask yourself these questions: Is it a Luau party? Or a birthday palm tree party? For adults or kids? Maybe a bachelorette party? Or a tropically themed holiday party?
Planning to give guests palm tree party favors? Maybe their own palm tree art wall decals. 
If so, there may be specialized favors or décor to consider.
Or you could use them yourself as ideas for palm party decorations.
FOOD/DRINKS
If serving food, do you want palm themed paper plates?
For drinks, will you want palm tree stirrers, or even palm styled glassware?
HOW PALMY IS YOUR EVENT?
How many palm tree decoration ideas do you want to use? How extravagant do you want to be?
Do you want to put time into making a palm tree out of balloons?

Would you want to have a small fake palm tree, not quite life-size?
Are you planning on stringing up palm tree party lights? Getting creative with palm tree lighting ideas.
How about a DIY Palm Tree decor project?
ANYTHING ELSE?
What other items were you thinking of including?
Did you ever think of providing removable palm tree tattoo designs for guests to wear during the party? Making it into a fun party event!
Tropical Style Party Invitations
PARTY INVITATIONS
With a palm party theme, you'll want palm tree style invitations. Some do electronic or email invites. That's fine. Send them out electronically 3 weeks ahead, 4 weeks for snail-mail invites.
But really nice is a good old snail mail version. (Do you want palm tree address labels?) A continued reminder for your guests' fridge or bulletin board. Then do electronic follow up if you wish.
INVITATIONS NEED THIS
What to include on your Palm Tree Party Invitation:
Also give a stop time to avoid guests overstaying their welcome!
GUEST COMFORT
How to dress, since it's themed. Expectations for Hawaiian shirt style, or similar? Is it required or optional? Avoids awkwardness for inadvertent nonconformists.
An option for those who may get cold is to have a few palm themed throws
FOOD/DRINK PLANS
If serving a meal, or meal-adequate servings of tapas or hor d'oeuvres. Helps them plan their own day's meals.

Alcohol served? In case they want to arrive/leave by ride-share. Or arrange designated drivers.
RSVP - Something to Emphasize for Your Planning Needs. 
TIPS TO GET INVITE ATTENDANCE REPLIES
Give a deadline. Emphasize it with larger print or highlighting. Give yourself enough time after the deadline so you're not stressed from last-minute prepping.

When using the term RSVP also include what it means. For those who don't understand: RSVP - Meaning please reply by... (For yes or no).

Provide as many ways as possible for answering: call, text, email, facebook messaging, snail-mail return (you could provide a return mail-out), or if practical stopping by for a chat.
Phrasing Suggestion: 
As the deadline nears, reminders are okay. 
You can say: 
I hope you received my palm party invitation a few weeks ago, because I haven't heard if you're coming. 
I need to know for food planning [or why else?] by [your deadline]. 
So please let me know yes you're coming, or not, asap, or by [deadline] at the latest. Thanks." 
You can phone it, email it, text it, message it - whatever is the easiest/quickest to be sure it reaches each person.
Palm Tree Tattoo Ideas
People who love tattoos often choose a small palm tree tattoo.
Then have it styled to reflect their connection with the Meaning of Palm Trees. That meaning often relates to the yearning for some awesome relaxation! And stunning peacefulness.
Have you been looking for palm tree tattoo design ideas for this same reason?
Getting a tattoo means there are Some Decisions To Evaluate.
Decide where to put their tattoo & how big it should be. 
Should it be very obviously seen? Or place it hidden from view. 
Maybe you'd want yours placed where it could be optionally seen or hidden.
DESIGN
Some prefer a palm tree tattoo minimalist design. And begin looking for small palm tree tattoo ideas. Such as...
Small sized palm tree ankle tattoos, or for the wrist.
Then there's small palm tree tattoo designs for the foot or neck.
But men may want something not so delicate! And look for palm tree tattoo ideas for guys.
Prefer a palm tree tattoo on the back?
And of course palm tree ideas for the leg or on thigh areas
What do you think are the best palm tree ideas for tattoos? Any particular favorites? Do you have a palm tree tattoo already?
DIY Palm Tree Decoration Idea
Want to try a DIY palm tree craft? Multiple uses, including decor for your tropically themed luau party.
Check out this super DIY palm tree decoration idea in this instructive tutorial. It's an easy, fantastic & easy-money idea to get done:
Takeaways for palm tree decoration ideas
Did these ideas help with your palmy event planning? We hope so. Using your creativity with imagination will help to make the plans you have a success. Something you'll remember.
---