Tall Palm Trees in California
Hi fellow palm tree admirers & aficionados. Who tell time by the shadow of the tall palm trees in California! 😁 (We've sorta done that!)
Are you wondering about these tall palms because of...
While wondering How Fast They Grow!
There could be other reasons you're thinking of. Are you wondering which one is the Iconic Tall Palm? 
We lived in Southern California for ten years. So we feel confident in taking you for a (virtual) stroll on some California scenic paths. To see where tall palms abound. Where they're as ubiquitous as surfing & celebrities. Discovering where & how they'll be uplifting for you!
Palm View Taken From a Pathway Along the San Diego River
Are the Tall Palm Trees in California Native?
The first question people often think of is: Are California palm trees native? We had the same question when we first began trips to SoCal, way back when.
The answer is both Yes & No. California is traditionally recognized world-over for famed streets lined on both sides with towering palms. Yet, only one species can claim native roots.
Are you wondering what these really tall palm trees in California are called? You can figure this out by getting your Washingtonia Cheat Sheet containing some Palm Trivia. Only Washingtonia filifera (scientific name) was original in California. Commonly called the California Fan Palm. You'll figure out that naming, I'm sure!
It has other nicknames too. Desert Fan Palm & Petticoat Palm. In the UK they call it the Cotton Palm.
California Fan Palm Growth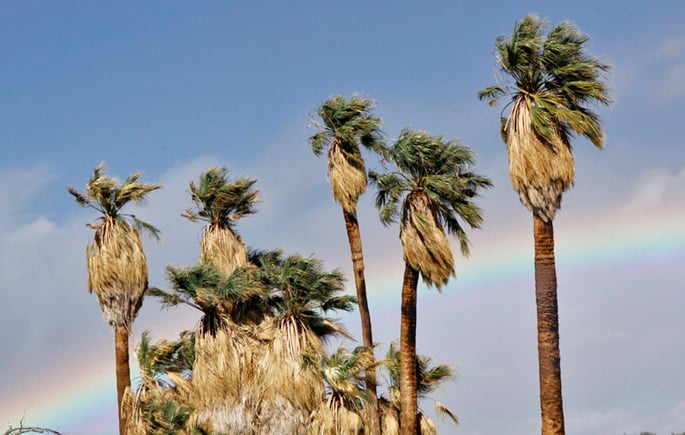 One of California's Tall Fan Palms - But Not THE Tallest.
Have You Figured Out How They Got One of Their Nicknames?
Of the tall palm trees in California, this Fan Palm (W.filifera) was the one native to areas near streams & natural springs. It's also found naturally by canyon arroyos with intermittent water flow.
Fundamentally, yes it's tall. It can end up anywhere from 50 ft./15m tall, to getting up to 70 ft./21m. How fast does the California Fan Palm get to these heights?
As a youthful sprout it grows pretty slowly while getting it's trunk girth on.

Once it's concentrating on starting to grow upward, it speeds up moderately. But still doesn't have the fastest rate of all tall palm trees in California.
So we see, they're not the towering giants we see on Hollywood streets or in films. There's another tall California palm that has that distinction.
Tallest Palm Trees in California
THAT FAMED SO-CAL TALL PALM
That regular player in the Southern California skyscape is commonly called the Mexican Fan Palm. Scientifically it's Washingtonia robusta. That it! The tall, skinny palm tree you've noted in California.
This tall drink of water among palms features an impressive growth rate.
First as a little tyke, it seems to be relatively slow. 

But be patient - once it gets to its "teens" it sprouts up quickly.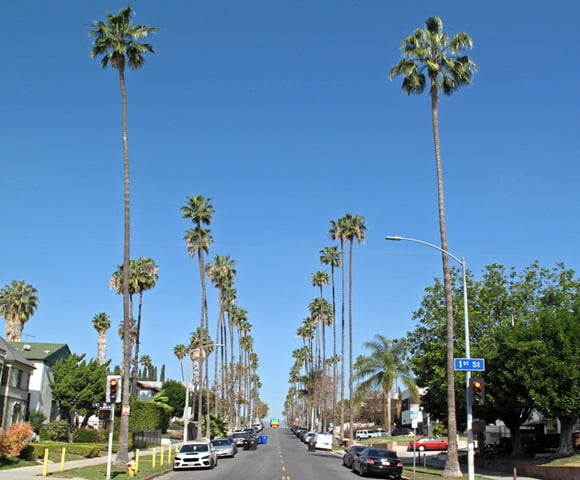 The Tallest Palms in Cali, Lined Up Along a Residential Street
In its best circumstances, each year it grows as much as 4 ft.(1.2m). But normally these SoCal tall palms grow more like 2 ft.(0.6m) per year. Reaching a stunning, head-tilting height of 100 ft.(30m). Sometimes even a little more.
ANOTHER TALL SOCAL PALM

There's another tall palm tree in California you'll commonly sight. Called the Canary Island Date Palm. Or scientifically: Phoenix canariensis. As the names suggest, it's originally domestic to the Canary Islands. This majestic non-native is well adapted to Californian culture & climate.
It's a Date Palm in California, but not the delish dates you'd think of. Technically you could eat the fruits, but you'd make an awful face. Then spit it out!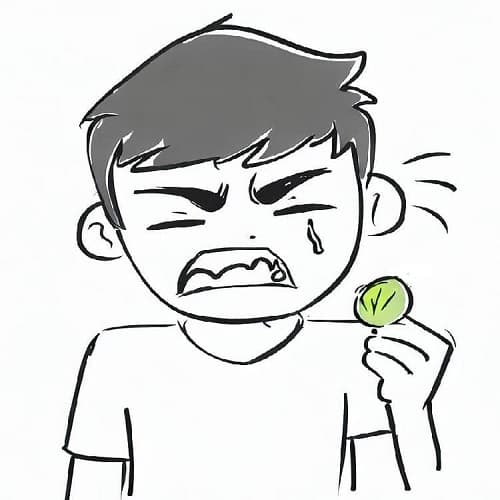 Yuck! He picked the wrong date fruit to try!!
The Canary Island Date Palm has pinnate fronds, rather than the palmate fronds on tall palm trees in California we've already mentioned. If you're wondering about the difference, our Palm Frond Info has your differentiation tips.

It does get pretty tall, yet more slowly than you'd probably hope. Up to 90 ft./27m maximum, with optimal conditions. Its imperial look comes from the wide, round crown. In Tucson, we see them regularly. We have to crane our neck to see all of it!
Canary Island Date Palm in a Garden
Imagine Palm Trees by the Beach in Cali
Now, let's imagine stepping out of a beach-front bungalow amidst a cluster of these flowing palms. The calming hum of the nearby ocean brings serenity to the soul. Think about all the places you'll go.
Los Angeles View Toward the East, at Crenshaw near Leimert - Many are Aging Now
But you don't have to imagine it. Why not start making plans today. To personally capture your own palm tree sunsets, beachside palms or streets lined with immense top to bottom plants. Take a look at these fabulous places!
FTC Disclosure: If you purchase via a link/ ad on this site, we may earn a small royalty. There's no added cost to you. Thanks much for any looks/ orders! Details>
HOW ABOUT NEAR MARINA DEL REY?
At the Pacific, Close to All Places to see these Tall Palm Trees in California. A great place!
Lots of cool towns in Southern California are near the beach. For instance, small town Capitola with 2 Gorgeous Beaches. We loved it there!
Exquisite beaches are right out the door, or within 1/2 mile drive or so. Think of driving the iconic Pacific Coast Highway. We've done that many times! It takes you through many great little beach towns where you'll catch scenes of these wonderful soaring palms.
A Great Drive on the PCH! Tall Palms Seen Along Beachside Parking Area in Santa Barbara.
Palmy/Beachy Towns
See Beverly Hills
You'll get vibes of that rich, famed appeal. Surrounded by LA, it's central to all you'd want to see & do. Including these lofty palms.
As for palms, the city takes them seriously! Residential streets are known for them all around. Walking around there, you'll be enveloped by these palmy towering greens. You can Search Many Places to Stay, from budget to highest end!
Several beaches are near Beverly Hills. Including Venice Beach.
Beverly Hills is a picture-perfect setting. Though it's not on the beach (10 miles away), Beverly Hills - get that meaning? It sits amidst hills where you'll see stunning views of the Pacific!

Have you dreamed of being there? You can do it!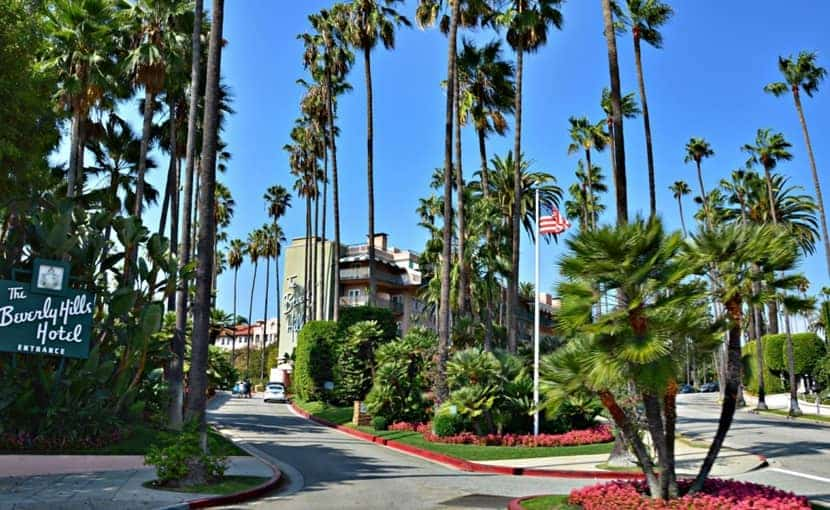 The Beverly Hills Hotel is a Deluxe Stay for Seeing Tall Palms. On Sunset Blvd.
Is Santa Monica a Desired Destination?
From Beverly Hills to Santa Monica instead? Visiting Santa Monica is a great idea! A suburb of Los Angeles. You'll immediately note the iconic palm-lined streets. Here's a look at Canary Island Date Palms there...
Plus local sandy beaches also have full-grown palms scattered behind beach blankets. You'll think you've walked onto a Film Set, as these elegant giants become part of your day.
Tall Palms Front Santa Monica Beach - View It From Palisades Park
Have you stepped into a postcard? You may think you've discovered your kind of paradise! But don't just imagine it - you can Plan That Awesome Trip.

San Diego
Having lived just south of there, in Imperial Beach, we can't help but suggest that gorgeous City of San Diego. So many great places here, plus within San Diego County! You won't be disappointed.
San Diego has picturesque neighborhoods, with palms scattered all over the place! We've always loved Del Mar (have won a few nice $$ at their famed race track!), Carlsbad Village (we'd visit there pretty often), and  Leucadia. We recommend checking out the authentic, quirky Vibe of Hillcrest to Flashy La Jolla.
PERFECT VIEW FOR THE SUNSET
How about a palmy sunset over the ocean? We'd suggest watching the horizon as evening turns to night from Sunset Cliffs, just south of Ocean Beach. Get that pic of silhouetted tall palm trees against bewitching hues as the sun sets.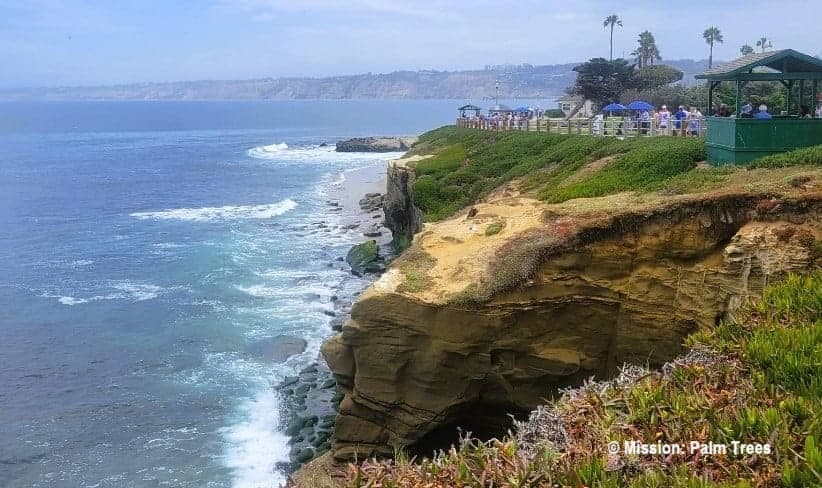 One Overlook at Sunset Cliffs in OB
Don't forget Point Loma for more stunning views at a Fabulous National Monument. The ocean & the city! And so much more, I can't even begin to describe it without running out of room!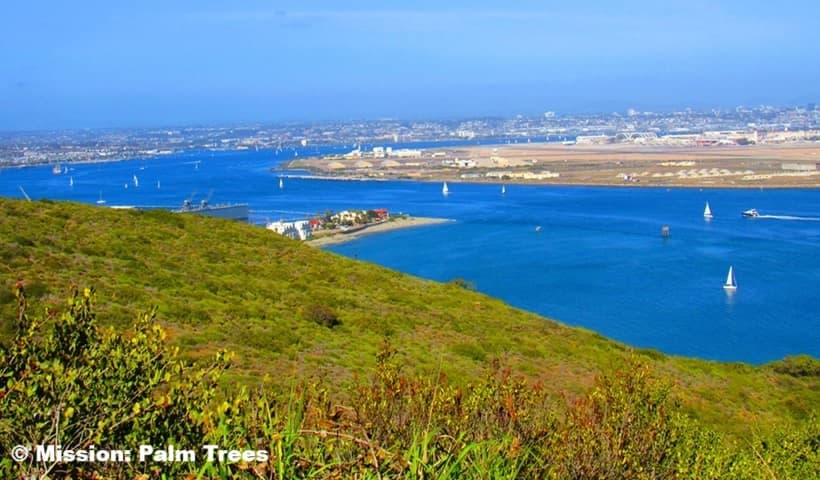 San Diego Bay From a Viewpoint at Cabrillo National Monument at the Very End of Point Loma
Will Tall Palms Help Your Own Backyard Oasis?
Homeowners, do you have landscape space for these Tallest of All Palms, like those in California?
If so, don't feel left out! Cultivate this Cali aura in your garden by planting a towering palm. Yet, bringing these soaring palms to life needs Smart Landscape Planning.
Remember these tall palms want full sun. Plus your placement of California types of tall palms could need trimming of old fronds. Depending on your taste. That's a cost as well. Or you might try your own physical effort for Pruning High-Up Fronds.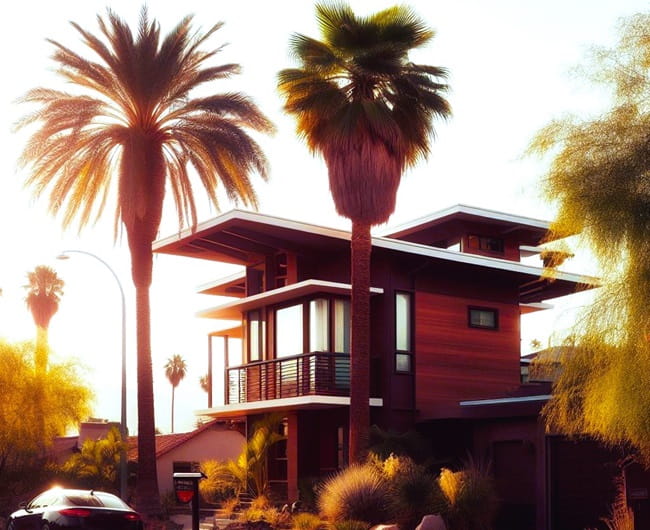 Do You Think This Home's Landscape Fits Well With These Tall Palms?
Also, check our section on California Fan Palm Growth rate to figure how long it takes to transform the sapling into a tower.

Best to begin with a small plant. These skyward palms are resilient in drought conditions when established. But younger palms require consistent watering. Think of the cost hike in your water bill! I know we've definitely noticed that. But, as they say: it's the price of paradise, your own cloud nine!
You'll enjoy the wildlife these tall palms attract as they grow. Like nesting birds & pollinators. Our Life Amid the Palms newsletter detailed our friend's experience with palm wildlife & her other harrowing palm experiences.
Takeaways for These Cali Tall Palms
We palm lovers are often fascinated by the tall palm trees in California. Looking way up at them. Getting the feel of warmth, relaxation, and that unique SoCal charm.
These tall California palms are distinctive for much more than SoCal's appeal.
They stand tall amid the city hubbub.

They lure you in to try them in your own landscape.

They entice you to visit for California aura, beaches & views.

They embody the relaxed exotic allure that is just so… Californian!
---