Outdoor Tropical Decor Plan
Outdoor Palm Tree Decor
With the right outdoor palm tree decor, you'll have your own tropical aura. What do we mean? Think about this...
Are you yearning for a tropical getaway, but can't swing a five-star trip to Tahiti right now? But the routine décor of your current outdoor space still leaves you with a tropical itch?
Fear not! We're here for you, wherever you live. To transform your ordinary outdoor area into a tropical paradise. We love that ourselves!
The right outdoor palm tree decor can make you feel like you're on a perpetual vacation. Let's embark on this tropical expedition, right at your doorstep!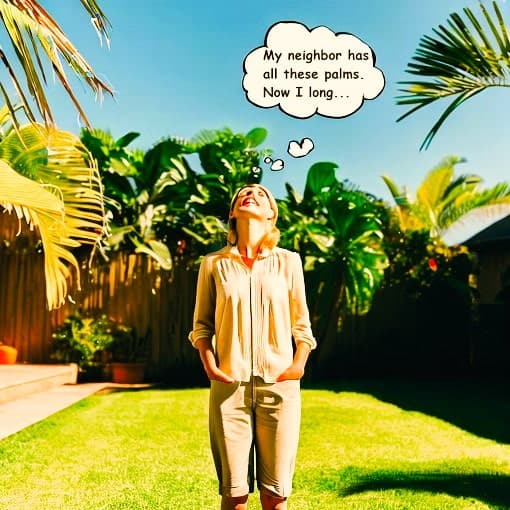 Let's Create an Outdoor Palm Tree Decor Plan
You have a palm growing outside? You've got that head start. With additional outdoor palm tree décor you'll have your own tropical retreat at home.
If you don't have palms planted in your yard, these ideas are for you, too.
Do you live in a climate that doesn't support where palm trees can grow? We still have many ideas for your own perfect tropical vacation spot at your doorstep. Planning your outdoor palm decor will be an enjoyable adventure of ideas!
Whatever your outdoor space is suited for, remember this! The tropical theme is all about feeling relaxed and easy-going. Ending up with a beautiful outcome.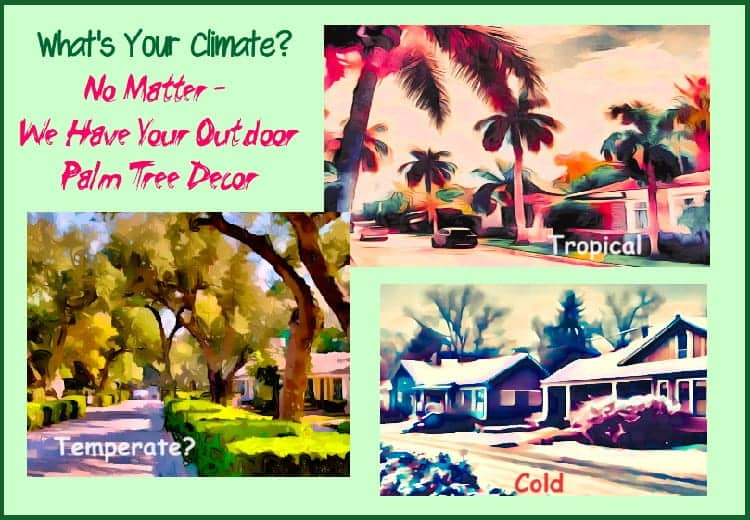 Outdoor Seating Area Tips
Wicker or rattan furniture in natural colors is a beautiful fit for tropical settings. Supplying comfortable seating with neutral and calming elements. To contrast with the dash of color we'll recommend.

Since your tropical paradise isn't complete without that burst of color!
FTC Disclosure: If you purchase via a link/ ad on this site, we may earn a small royalty. There's no added cost to you. Thanks much for any looks/ orders! Details>
Why not add Outdoor Cushion Covers featuring tropical prints?
Or get the complete cushions. Like those from Greendale Home Fashions, for Aloha Accents. A beautiful addition to patio furniture, don't you think?
When it comes to tropical outdoor décor, feature a color palette of lime greens or coral pinks. Symbolize the tropics by:

Adding colorful outdoor rugs.

Setting up vibrant umbrellas for extra sunny spots.

Completing with tropical flowers.
Remember to balance with neutral, calming elements, too. Naturally colored décor that also provides a tropical touch.
Relaxing, breezy sounds are important for your outdoor space. Tiki tropics-inspired wind chimes like Cohasset Gifts' Bamboo Wind Chimes deliver that calming island oasis sound.
CONSIDER GROWING YOUR OWN PALM
An exciting venture! You'll need patience. Plus, there's maintenance. Like watering & fertilizer now and then. Remember they prefer full sunlight. Yet natural palm trees provide unbeatable tropical authenticity.
Outdoor Artificial Palm Trees
Natural palms need regular watering, possibly Occasional Pruning. Perhaps Soil Testing for knowing necessary nutrients. Then properly adding fertilizer.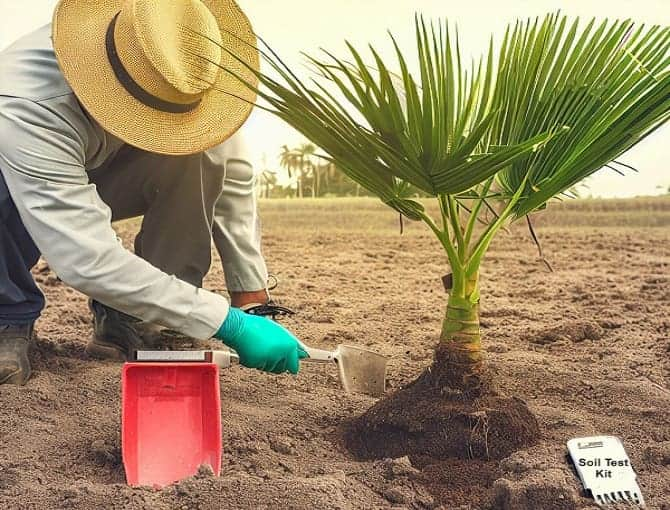 Does that Palm Tree Care make you shudder?
Then consider alternate palms for your tropical backyard paradise:

Essential though, is preventing sudden "take off" when storms hit! Tether Them for Anchoring against strong winds.
How about an outdoor potted palm? Choose a solid planter. Like, H-Potter's Tall Planter, with its rust-resistant stainless steel. A fantastic choice for palm plants.
Tropical Zen Area by Your Outdoor Palm
Your palm tree decoration ideas could influence nearly every part of your outdoor space.

For instance create that beachy garden path from your deck, patio or doorway. Where will it go? Leading to a calming Zen seating arrangement by your palm tree.
Instead of Only These Stanard Pavers Along the Way
Incorporate Quirky Stepping Stones With Coastal Designs
One idea is including some Coastal Themed Stepping Stones.

Does your Zen area need shade? Try tropically themed parasols!
For Sunny Hot Days
Ideal For Zen Seating!
CONSIDER LIGHTS
Bringing evening Zen tranquility.
Why not feature palm trees or tropical-themed solar-powered lighting? Catching energy all day to double up as your eco-friendly choice. These Solar String Lights will soothe your night-time gatherings.

Another idea is

Uplighting for Palm Trees

. Restoration as you gaze!

String lights around your seating area. Even wrap them around your palm trees.
A Delightful Twinkling Effect at Night!
Cool Tropics in Colder Zones
We have ideas if you live where palms don't easily grow. Move towards an incredibly beautiful, balmy outcome.

Start with artificial palm trees. They're a great buy. Giving you year-round greenery without the need for worries about cold weather dips. Or even maintenance!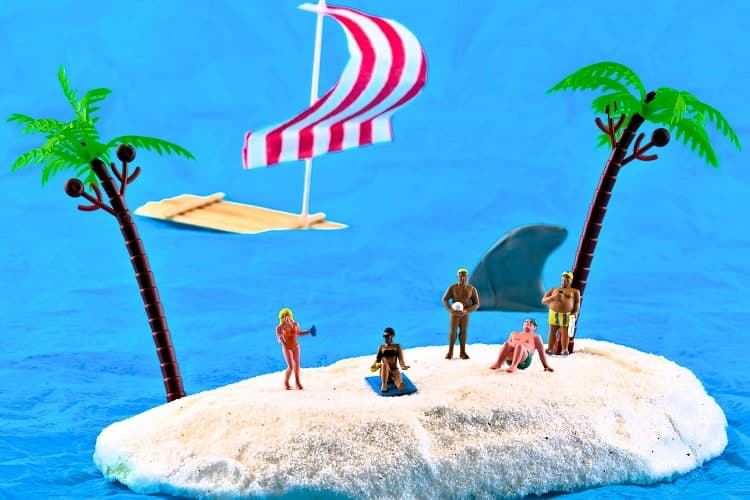 Even Barbie Works With Artificial Palms!
😉
Just remember to stake them down. To prevent an uncalled-for flight during strong winds.

This Areca Palm has realistic looks, without hassle.
How to tropically decorate palm trees you've chosen? Try these ideas.
The right planters are instrumental. Lightweight Plastic Planters are easy to move indoors, ensuring your lush palms stay healthy. Avoiding worries about seasonal weather change.
Complete your tropical haven with a comfortable hammock. Hang between trees or use a stand. Castaway Living has a two-person tropical choice. Cozy up or rest & relax by your palms.
Create That Tropical Beach
How about mini tropical beach stylin'?
Faux beach mats like a Reversible Outdoor Patio Mat gives you those beachy vibes. Also becoming a perfect spot for tropical flair sunbathing under your palm trees.
We Found This Outdoor Rug at Home Goods!
Want to evoke more feelings of a tropical beach resort?

Willing to go all out? Create artificial streams or even a koi pond! 
Takeaways for Outdoor Palm Tree Decor
Don't let your outdoor palm tree decor get overwhelming.

Check your

Palm Landscaping Plan

. 

Tackle a few items each day.

Rotate different elements towards your goal.

Make it an enjoyable adventure instead of a chore. Let the transformation happen naturally.
Your tropical oasis serves multiple purposes. From hosting summer cookouts to offering a solitary spot for enjoying a good book under a palm. Above all, make it a peaceful escape, an island amidst your bustling life.
Gear up for tropical fun. Embrace the vibrant colors, exotic sculptures, the soothing sound of wind chimes. Don't forget to celebrate the completion of your project. Cheers to your very own outdoor palm tree décor paradise!
---