An occasional wipe-down of leaves with a mild cleaning solution is easy. Maybe 3 or 4 times a year, depending on your climate. It helps you rid the dulling film that accumulates. 
Keep special microfiber cloths just for this task. As they get dirty, rinse/clean them.
It's very dusty in the Sonoran Desert, where we live. I like to make my own cleaning solution. You can make it too, using 50/50 proportion: white vinegar to distilled water.
They do have Prepared Plant Cleaning Solutions, if you'd prefer.
WHAT FAKE PALMS LACK!!
They don't need any pruning, fertilizing, watering or soil replacement.
So you can rest assured your palms will look perfect all year round.
ADDED BONUSES
No Bacteria Attracted to Fake Palms - Nothing to Eat There!!
2: Long Lasting
A fake palm tree plant is quite durable. With proper care, these faux plants can last
many years. As a rule, no need to replace them!

Synthetic palms are usually made from strong, enduring materials. They won't fade or
deteriorate over time. Unlike natural palm trees, imitation palm tree versions can keep looking fresh & attractive. Serving you well for years down the road.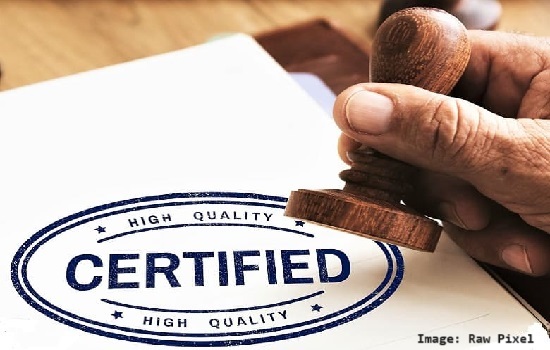 PLUS FLEXIBILITY FOR DECOR
These fake palm plants can be easily moved around.
Can't do that with real palm plants that you planted into the soil. Yes, real palms can be transplanted. But depending on lots of circumstances, not particularly easily done. Or as quickly. Or multiple times as your styling decor progresses.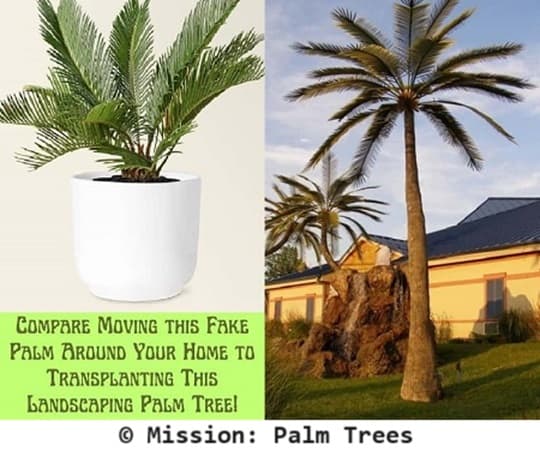 Even Real Potted Palmy Plants for Inside Are Heavier
And Can Have the Same Problems as Those Outdoors.
Whenever you want to change your landscaping or interior arrangements, no worries! It's easier to freshen up your home decor when desired.
OUR "NEON" PALM
For instance, we have our fake palm. It's styled as a neon light. But that's fake too, as it's not really a neon light.
It regularly sits on a small stand in our gathering area before exiting to our backyard. We turn it on, when we want subtle lighting & atmosphere in that room. For playing a game, or talking with friends/family around the round table there.
Very Cute Fake Neon Light: Palm Tree
Room our Outdoor Atmosphere
We Bring to Our Patio Bar for Night Mood Lighting!
3: Versatile Home Decor
Artificial palms come in a variety of colors, sizes & shapes. That allows you excellent flexibility for your Palmy Home Decorating plans.
You'll be able to find the perfect tree to fit whatever space you have.
Just a Few of the Palmy Assortments for Fake Plants Available to get that Indoor Sultry Ambience
Another idea is to Buy a Fake Palm Tree plant that's clustered together. That look makes for a lush tropical atmosphere!
Or instead, go for a more sparse and minimalist look.

Some artificial palms have LED lights built-in. How cool is that! Making them an energy efficient, decorative, yet subtle lighting solution at your home.
4: No Allergens For You!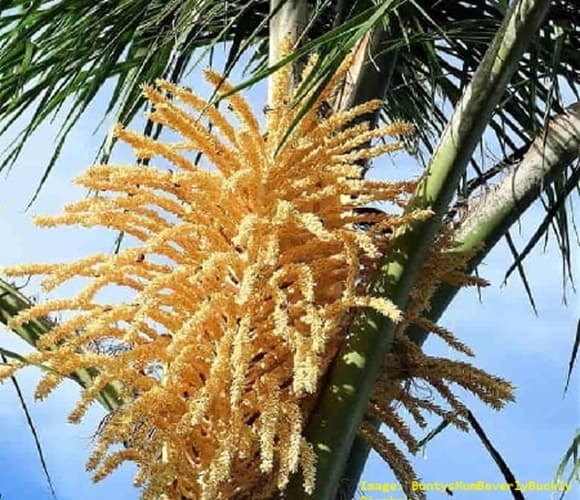 Palm Tree Flowers Can Look Very Attractive
How Do They Affect YOU, When Their Pollen Enters the Air?
You probably know this, but maybe didn't think about this advantage!
Of course, fake palm trees don't produce pollen. Bringing a fake palm plant indoors, rather than a natural palm, rids you of palmy allergy issues. Inside your own home!
The same with Fake Outdoor Palms. Go for some type of outdoor artificial palm tree instead of traditional plantings.
OH - THOSE NASTY ALLERGY SYMPTONS!

You & your family won't have to worry about bothersome allergies. Avoid that sneezing and congested noses.
I know we feel for those of you suffering from those plant allergies.
Bill & I both have irritating allergies to various plant pollens. They make us sneeze, have watery or dry eyes (depending), give us sinus headaches & make us cough. Hope that wasn't TMI!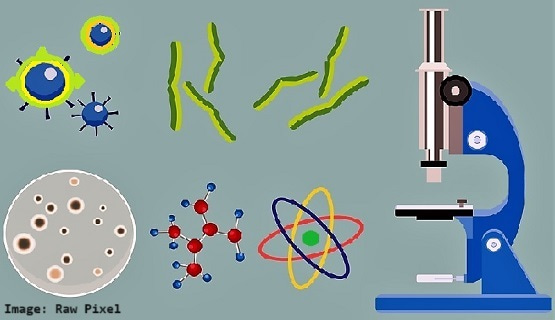 Science Tries to Find Solutions to Combat Allergies
Do They Work Well for You?
Real palm trees can cause these allergic reactions. Maybe for you! So if you want that tropical aura for your home, getting fake palm trees avoids that.

DUST/ODORS GET YOU SNIFFLING?
Your allergy tends more to dust or odor related?
Aaah - The Dust at Home is Now Illuminated!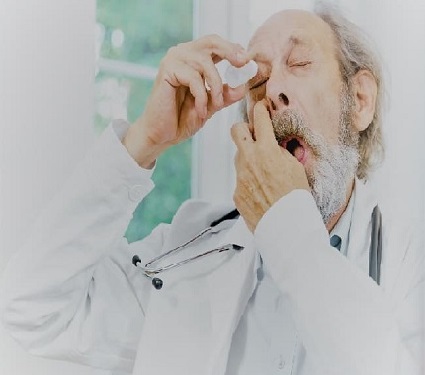 Odors or Dust Can Irritate Your Eyes
Then think of the fertilizer treatments (could be stinky or dusty!!) real palms need. Artificial palms don't need fertilizing. Or any type of special treatments involving soil.
Just dust them lightly, as you would do for your furniture. To keep that powdery irritant under control.
If you're looking for an allergy-friendly, tropically influenced home decor solution...
Synthetic Palm Trees Are The Perfect Choice!
5: Budget Friendlier
It's true, the initial investment might be more than real palms. That could be variable, though, depending on your choices for either one.
CONTINUOUS COSTS
First the artificial palm tree price you choose can fit with your own spending plan. Plus, remember over time, a fake palm tree plant turns out to be more cost efficient for your budget.
Artificial palms have no ongoing costs like water or fertilizers. Expenses for natural palms which you won't have. That can make them easier on your budget in the long run.
Just imagine planting a real palm tree. The ongoing maintenance it will need. The watering, the fertilizer, etc. Never mind adding in the cost of buying the plant.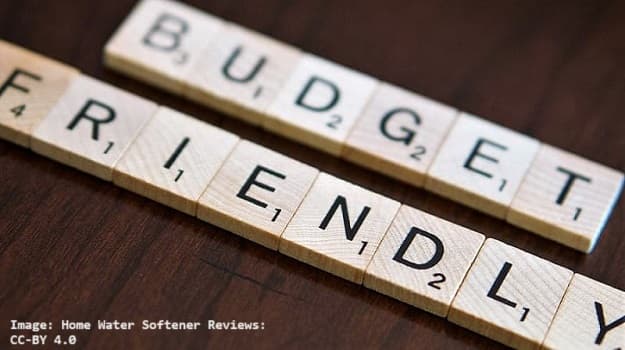 Image Credit: Home Water Softener Reviews
CHEAP MANAGEMENT
You'll have no such essentials when you purchase artificial palm trees. They don't need any special care or treatment. Just a little cleaning solution a few times a year (very cheap!).
So all in all, they're the budgeter's choice.
6: Fake Palm Tree for Outdoor Events
You don't want to buy fake palm trees to use indoors or outdoors? For regular usage, that is.
Have you thought about Artificial Palm Trees For Outdoors during the holidays? Or maybe for a particular party you're planning. Like a luau!
PARTY PLANNING

You don't even need to get a fantastic looking fake for a party. It could be a fun sort. Even something like one of the Blow-Up Palm Trees! It would make a fun decorative background. Plus practical usage.
Is your backyard arranged like your own home-grown resort? Get some fake palm trees for pool area seating. They are easily moved around to suit your party plans, to fit right where you need them.
What Fun Luau Decor! Why Not Add a Blow-Up Palm Tree for Even More Laughable Fun?!
FESTIVE HOLIDAYS
For the holiday season, use one of the pre-lit fake palm trees. Types that can be used outdoors as Palmy Christmas Decorations in your landscape.
Or for an Indoor Palm-Style Christmas Decoration. 
Or we know some palm tree aficionados who use them indoors in place of a pine. Using the most realistic artificial palm trees they can find. Decorating them with tropical ornaments. Then using that as their Christmas Tree or Hanukkah Bush.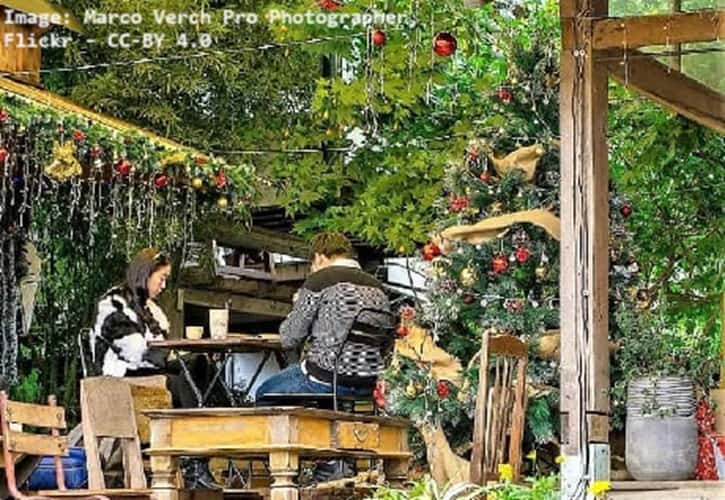 For Holiday Decor, it Would Add So Much to This Outdoor Eating Area to Place a Decorated Fake Palm Tree.
Fake Palm Tree Plant Takeaways
We hope we've given you some ideas here, for using a fake palm tree plant. Have you had any other great ideas we haven't thought of ourselves? What are you doing?
You can Tell Us About Your Own Fake Palms, if you would!
---