backyard palm tree ideas
Try our backyard palm tree ideas to see your own backyard as a peaceful and stunning paradise. Yes, this transformation happens with the addition of palm trees!
Do you live in a tropical or desert climate? Or the subtropics, and even a temperate climate? We've got tons of ideas for you to add these beautiful, versatile trees into your outdoor space.
Together we'll explore some backyard palm tree ideas. We think they can swoop you right to a vacation spot. Close your eyes & imagine, because it's right on your own property!
Ultimate Guide to
Creating a Palm Tree Paradise in Your Backyard
So many ideas for palm trees in your backyard can give you that tropical paradise. We have some you may have heard of. Others may be really innovative palm tree ideas.
We created this guide to give you tips and tricks to help you out. We believe palm trees are a great place to start, for adding a touch of the tropics to your backyard. Don't you think so? We'll get you on your way to creating the perfect backyard oasis.
We, ourselves, love tropical vacations! We think you probably agree. See all we have for you in our backyard palm tree guide to the best ideas. Just continue on down. Or you can choose the specific areas you're most interested in:
Design Ideas for a Stunning Palm Tree Paradise
Think Ahead for designing your stunning palm tree paradise. Because for that perfect tropical aura, you'll need more than digging that hole & planting the tree!
ADVANCE PLANNING IDEAS
Create your stunning palmy atmosphere by adding in other tropical plants. Plus enchanting, aromatic flowers that'll be the perfect match for your palm tree.
FTC Disclosure: If you purchase via a link/ ad on this site, we may earn a small royalty. There's no added cost to you. Thanks much for any looks/ orders! Details>
THE BEACH?
Think about Planning Your Landscape for a beachy vibe, too. Sand or gravel pathways can do that.
We don't live near the beach! We live in the Sonoran Desert, but still love taking tropical beach vacations. So we like to add beachy touches to our palmy home.
You can do that too, no matter where you live!

Add your outdoor seating areas with a view to coastal, tropical vibes. Then have a relaxing balmy feel when you're with family & friends.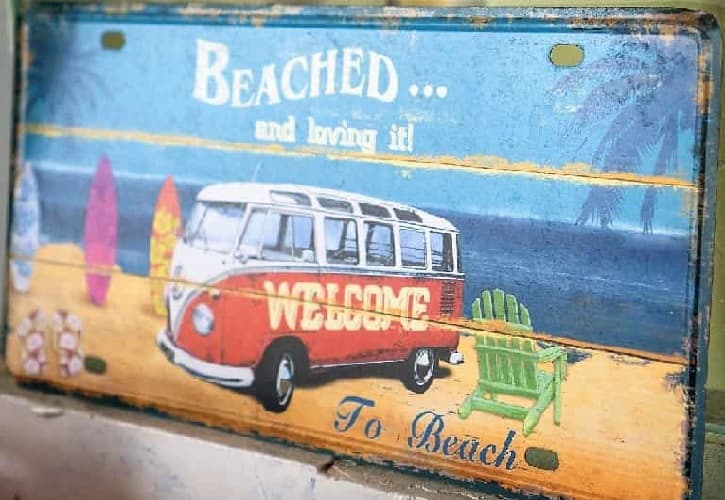 And Open Locked Palm Content at: LIFE AMID THE PALMS
COLD WINTERS WHERE YOU LIVE? A few things you could do are:
Use 

Smaller Indoor Palms

planted in containers. In suitable spots around your patio & seating areas. You'll move them indoors when temperatures drop. 

How cold does it get where you live? When you consult the

Growing Zones

, you may be surprised to see there are palms doing just fine in your area!
And think about focus lighting around your palms. Do you already have a palm tree, where you can add that? This will magnify the nightly verdant ambiance of your tropical space.
Work on that creative brain of yours! You have it! Go ahead and exercise it, with some design inspiration. You'll transform your backyard into a tropical haven. It will surely become your favorite spot to relax and unwind.
Backyard Palm Tree Ideas
That are Right for You
Choosing the Right Palm Trees
When you're about to pick out the right palm trees for your backyard, think:
First Things First
Please don't go right out and buy what you think looks so pretty in the nursery, or online!
Believe me - we know! From our own horrible experiences with planting, and those of our friends.
THE CLIMATE ZONE IS AN IMPORTANT FIRST
An early step for ideas to convert your backyard into that vacay palmy retreat is choosing the right type of palm for your climate. Don't miss finding your own Climate Zone.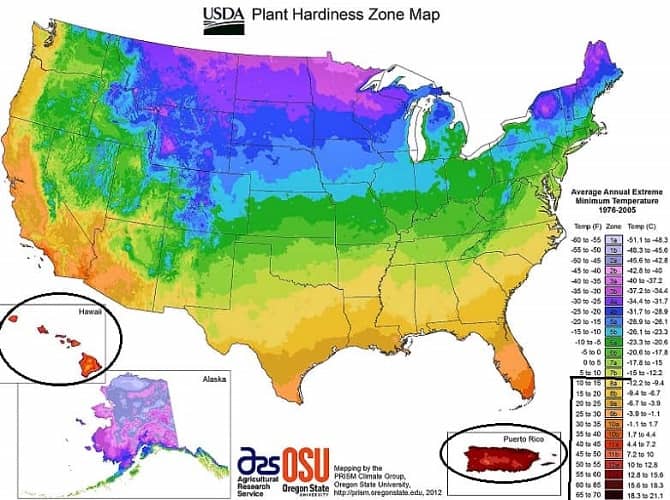 Click on This Climate Zone Map to Find Your Exact Zone!
STEAMY ENVIRONS
Some Types of Palm Trees, love rainy, sultry warm climates. Think of the true tropics. 
Do you have the desire to give the palm tree you're thinking of lots of watering? 

Taking watering time and/or $$$?

For instance, Areca species like Betal Palm & Orange Collar Palm.
DRY & HOT
On the other end of the spectrum are those arid Desert-Like Setting Palms. Too much water isn't a good thing!
Examples:
Dwarf Mexican Blue Fan Palm. Which wants every bit of sun, as well.

The Florida Thatch Palm.

And the Mediterranean Fan Palm.
ENOUGH SPACE?
Remember to evaluate your outdoor space, when choosing your palm. Along with your backyard layout and your home's rear architecture.
An essential part of your initial planning.
How tall will the maximum height get for your chosen palm tree? Imagine how it will look in its placement when fully grown.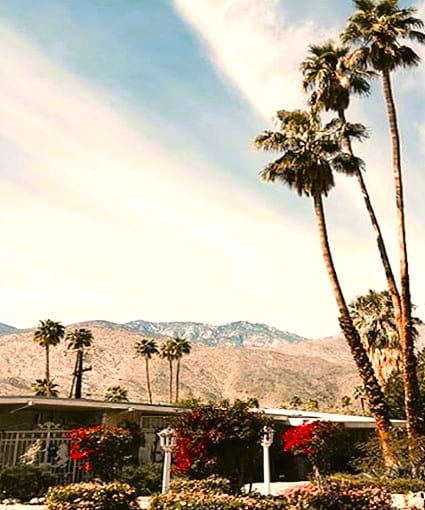 These Palms Are Way Out of Proportion to the Home
WILL THIS PALM SPREAD OUT?
Some palm trees are the Clumping Type of Palm. They form new stems and spread out.

Do you have room for that, if you choose a clumper? 

Or are you willing to do Pruning as needed?
THINK DIRTY!

You know, digging into that soil!
What is its type? The pH, for instance.
Knowing certain tips about How to Grow Palms is important. The ground into which the palm is plunked is important, too.
DECISION TIME
When you've figured out these situations, you'll have your backyard palm tree ideas focused. Popular varieties admired for their looks, like Coconut Palms, Date Palms & Fan Palms, may not be right for your backyard. Now you know!
So it's time to check out which palm tree is perfect for your own backyard resort.
Plan Your Landscape Design
Around Your Backyard Palm Tree
SURROUND AROUND YOUR PALM
Now you've decided on the palm tree to buy.
Or maybe you already have the palm tree in your yard, but want to upgrade your landscaping plan. To make it a stunning escape that features the gorgeous palm that you love!
Either way, you're ready for your next step. Evolving your plan so your backyard focus is the palm tree, plus the landscaping design you create around it.
COORDINATION
For one thing, look at the size your palm tree is or will become. This also helps to plan where it should go. Featuring it near or far from backyard features like your patio, deck or pool. Will fronds, fruit or flowers litter any of these areas?
Think about the items you already have in your backyard. Your outdoor furniture, your patio or deck, or the yard or garden's wall or fencing. Even the your home's style, plus its chosen color scheme.
It looks better to have styling harmonized.
Same Species Palms Planted in This Backyard - Adds to the Echoing Neighborhood Palmy Environment!
KEEPING THE UPDATES
If your home is modern, try to keep with modern outdoor furniture. Or if it's already there, rather than the expense of getting new items, add in modern complimentary elements.

Are you going for, or already have a strictly tropical theme throughout your home. Even somewhat in your backyard.
Whichever fits you, you really want that lush tropical oasis for your backyard seating areas. And surrounding planting color pops for your palm tree. You can do that!
Use some fabulously styled outdoor pillows with palmy flourishes. Like these:
Is there a place to hang Brightly Colored Tropical Plaques? With cute sayings that fit your personal style?
TROPICAL FLOWERING PLANTS
Suitable flowering plants for your planting zone is a whole other design aspect. Choose those that remind you of the tropics. There are many you can evaluate and plan for. 
With thoughtful advance planning, you'll bring that heavenly lotusland into your own backyard. Think of all the simple decorative ways we've already seen, that you might be able to add in.
There are even more items for decor to add in with your back yard palm tree ideas...
Decorative Elements Enhance Tropical Vibe of Your Backyard Palm Tree Ideas
WHAT'S YOUR PERSONAL PALM TYPE?!
You've decided on making your backyard a personal tropical paradise! Adding in palm tree and tropics related decor is a simple way to make it better yet. Only enhancing the flavor you're portraying.
We've already seen how easy it is to bring in tropical decorative themes with outdoor furniture cushions. Bold arrangements feature palm leaves or colorful flowers of the tropics.
We have other ideas to think about. Discover & get your own personal style. How do you get that? Choose whatever "Tiki Flavored" types of items you like best for your outside entertainment area in your backyard.
You could place bamboo screens around the deck. They can be privacy screens to block out the neighbors' view. While still adding that tropical aura.

Another option is for use as temporary partitions during luau parties, for instance. Bring them out of storage for each gathering. Place them for separating eating areas from the home entry, etc.
TIKI VIBE
Or get a Ready-Made Tiki Bar. 
Thatched roofing definitely adds a beachy island motif. 
Or around the bottom trunk of your palm.
Light Strands Wind Around These Magnificent Backyard Palms
SUBTLE LIGHTING
Lanterns are another captivating idea. For a romantic, palmy nighttime glow. Making your backyard tropical space seem magical as the sun sets. 
Light Up Your Backyard Deck With Lanterns. Adds an Exotic Glow to Your Tropical Palm Tree Dining.
Think how these steamy additions to your backyard paradise will add to the tropical palm theme. You and your guests will love to play and relax in your created oasis of palmy styling. You'll all be immersed in the palm's overtones.

Like you've gone to that dreamy, distant ideal vacation without leaving your backyard turf!
Focal Point with Groupings of Palm Trees
YOUR OWN PALM TREE GROVE?
FOR YOUR TYPE OF HAPPY PLACE!
Make a focus area with a group of palm trees together in an area of your yard. That will surely make a topical, tropical statement for your backyard.
How can you do that?
Use clustering palms that draw anyone's eyes right to them! Several palm trunks springing up close to each other. They're all intertwined on the same root system!

Strategically place several palms in one area of your backyard. Plan for the same species, and at variable heights when planted. Group them in odd numbers for the best look. Usually 3 or 5 is the way to go.
Three Coconut Palm Trees, Varied Heights, Scattered Spa-Side. Add to the Tropical Chill Vibe!
Place several palms in one corner or section of your backyard. But choose those with varying trunk colors, styles or textures. Maybe even with different types of fronds.

Use small palms along one border of your patio. Spacing them in a zig-zag manner. Either use the same species, or you can vary them. 
In either case, use an odd number, and then vary their heights.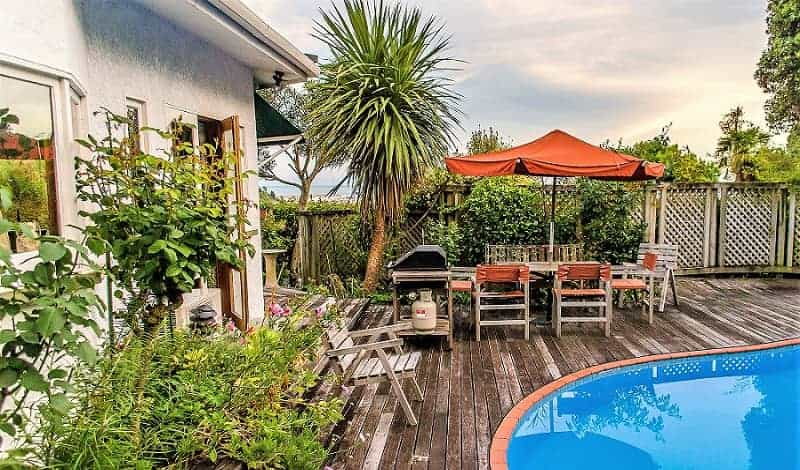 A Single Palm is Also an Odd Number - Making a Wonderful Focus
Also Note The Coordinated Styling: Wood Fence, Deck, Seating, Back Door
+ Orange in Poolside Pavers, Chair-Backs & Cushions and the Umbrella
How About Adding Orange Colored Flowers to Plantings!
YOUR STUNNING SETTING
Any of these methods will make a splashy impression.

See which you think can impress any of your friends or relatives who visit your home. Bring them outdoors to see your backyard palm tree ideas, so they can get a look!
Lighting to Showcase Your Palm Tree at Night
LIGHT TO DELIGHT!
You've put in the hard work. Using your creativity. Taking time to work with backyard palm tree ideas to beautify your yard.
At some point you may want to evaluate the importance of literally highlighting your work at night too! Placing feature lighting directed at your backyard palms is the perfect trick.
Several ideas for lighting up your palms:
It highlights particular features of individual palms
You creates an evening tropical aura that's inviting for spending time.
It shows the natural architecture of the trunk, as well as the depth of the fronds.
This spotlights your palm tree groupings.
This technique makes your palms vibrant, apart from the dark areas of your yard.
The Lights Here are Placed Upwards on the Trunk - Really Featuring the Palm Crown From Below
But a Stunning Backyard Alternative is Lighting Upward From Ground-Level!
NO GARDEN WASTE!
Bringing light action to your backyard palm trees makes your outdoor space more usable. Instead of the ordinary outdoor area it had been before you began putting into place all your backyard palm tree ideas - you'll now have an amazing oasis, day or night!

Takeaways for backyard palm tree ideas
We hope that some backyard palm tree ideas you'll find useful here. We haven't used them all ourselves, but we've seen others who've used them around Tucson Arizona. Where we live.

These ideas could rev up your thinking cap! Transferring some to how they'd work for your own backyard. We've done that ourselves.
We wanted to cover all the bases that might be helpful for you!
---