November 2023
A Horticulturist's Unexpected Finding
Hi,
We hope you're doing well. And enjoying autumn!
We want to tell you about this astonishing discovery in a small town.
A plant biologist began an extraordinary journey. She was in the midst of a story bigger than anything she'd ever experienced. Her adventure began while studying patterns on a palm's trunk.
Read This Apparently Ancient Palm Story Now>
Palm Patterns Divulge Surprising Revelations
Tamara is a well-regarded plant biologist specializing in palm horticulture. She was visiting Palmydale to study unique characteristics of local palm varieties.

She began by closely viewing local Palm Tree Trunks. What happened next was just about unbelievable! And certainly unexpected.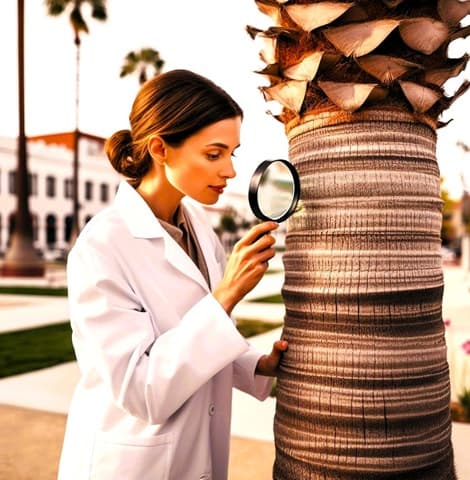 Click Here for Life Amid the Palms November Memo>
This small town of Palmydale awakened to the possibilities of this discovery. See this breaking news before everyone else hears of it! And figure out something about it, too.
Please enjoy it! Let us know what you thought!
---
- To ask us anything, give us suggestions on future Memo Topics, or give feedback there are two ways you can use.

1) You can reply to this newsletter - Just Hit Reply - and we'll have the details you've typed & are sending along.

2) Or you can Use Our Contact Form Here>
With the Contact Form method, we'll see your input the fastest.

Best wishes all,
---
---
Do You Know Someone...
Did you enjoy this newest Life Amid the Palms Memo? Maybe others you know would like it too! We'd surely be happy, with much appreciation, if you would Pay It Forward by sending this issue to them.
See Much More from Mission: Palm Trees
We have more ways to look into all kinds of things related to Palm Trees. Here are a few...

√ - Remember our index page. Outlining every page in Mission: Palm Trees with Our Site Map.

√ - To see our latest postings, why not check out Our Palm Trees Blog.
---
Did Someone Send You This Memo?
Don't miss another issue! Plus get all premiums & bonuses that only those on our Life Amid the Palms list receive.

Get all the details about our monthly/+ memo & how to subscribe by Clicking Here> for Details on Our Free Palm Memo
---